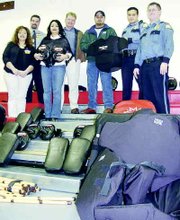 A spur of the moment decision by Sunnyside Police Officer Jim Ortiz has led to the purchase of more than $2,300 worth of tactical training equipment.
Ortiz explained that every year for the past five years, as budget time comes around for the police department, he has been diligent in his requests for training equipment. He noted that every year he has been able to purchase a few things here and there. However, with budgets getting tighter and tighter with each passing year, this time around Ortiz decided to take a different route.
Instead of pleading with city officials for a few extra dollars, he decided to take his plea to the citizens of the community.
Ortiz sat down and wrote a letter asking for donations from local businesses to support the police training program. He noted the contributions were tax deductible and that he would be held accountable for every last cent donated.
Officer Ollie Hernandez said several businesses responded, with the local Kentucky Fried Chicken franchise, the local Wal-Mart store, El Conquistador, Canam Steel, Pepe Navarro of El Mejor Taquito and El Valle coming forth to donate funds.
"Everyone donated in one way or another," Hernandez said.
Both Hernandez and Ortiz noted that donating to the training program helps not only the police department, but ultimately the community.
Ortiz said the money donated by the local businesses has already been put to good use. He noted that the funds have gone towards the purchase of six training bags, which he said are a very versatile tool when it comes to teaching tactical techniques. The funds also helped purchase eight pairs of focus mitts, which are small, round, heavily padded mitt-like pieces of equipment. The final item the donations went to pay for was a high gear suit, which cost more than $1,000. Ortiz said the suit, like all of the equipment purchased, goes to help protect officers while they learn how to deal with different situations they could come across in the field.
Ortiz noted that all of the equipment he recently purchased, as well as the pieces he has purchased over the past few years with police department funds, are being used to train police officers in different ways to defend themselves and safely apprehend people on a day-to-day basis.
He said since he first obtained certification as a tactical trainer the knowledge he has and the equipment the department now has have been put to use training officers from Yakima to Grandview. He added that between Yakima and the Tri-Cities there are only three people who are certified to conduct such trainings, and that includes Ortiz, Hernandez and Grandview Police Detective Mitch Fairchild.
Ortiz said before this type of training was available in the Yakima Valley, local officers were having to rely on the training they had received when they first went through the police academy. He noted that for many officers it has been more than 20 years since they went through academy.
A lot can change in two decades when it comes to tactics and in the past few years many Lower Valley officers, and especially the Sunnyside Police Department, has been working to implement those changes. Ortiz said Sunnyside's goal is to have every officer in the local department go through at least two tactical trainings a year.
Thursday morning, Ortiz, Hernandez and Fairchild gathered at the Sunnyside Community Center with representatives from several of the businesses that donated funds for the new equipment, to give them a demonstration of just how the equipment is used during training. Ortiz showed how long bamboo sticks are used to help officers strengthen their torso. Daniel Guillen from Canam Steel was given a chance to put on the newly purchased high gear suit. Ortiz demonstrated how although the suit protects the wearer it also allows them to feel the impact of the strikes they are taking. This is important during training, he said, so both the officer doing the striking and the officer wearing the suit learn from the training. Fairchild explained that it's important for officers to know what it feels like to get struck, so they can implement properly the techniques they are taught during training.