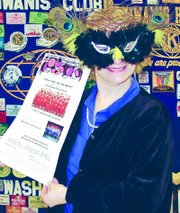 Faye Vlieger arrived at the Sunnyside Kiwanis Club yesterday morning (Thursday) with a request.
The Rolling Hills chapter of Sweet Adelines International member came seeking help for the chapter's Jan. 28 Broadway-style show, "Hit Me with the Spotlight," to be held in Sunnyside.
"We need volunteers to act as ushers and to help tally ballots during the talent show portion of the program," she told Sunnyside Kiwanis Club members.
Vlieger, who has been a member of the Central Washington Sweet Adelines group since 2004, said the Rolling Hills Chorus has chosen a Broadway/Star Search theme for its 2005 show.
As a part of the show, area high school vocalists will be offered a chance to compete for cash prizes, as well as be given exposure to barber shop style singing, she explained.
"Hit Me With The Stoplight" will be presented at the Sunnyside High School auditorium at 7:30 p.m.
"We normally have a full house at Sunnyside," Vlieger said. "We expect to have a full house for this year's show as well," she added, noting the show will be presented in Richland Saturday, Jan. 29, with a separate set of high school singers.
The high school singers compete for cash scholarships and the winners are selected by the audience's vote.
Selected from the Lower Valley to participate in the Sunnyside program are Tony Magana of Sunnyside High School, Tara Collins of Grandview High School and Josie Chase of Mabton High School.
Vlieger said the auditions to narrow the field to just nine contestants was lengthy and quite difficult.
"We had to ask a number of the singers to sing more than once, as we checked off a long list of candidate's criteria," she explained. "It was hard to pick just nine," she added.
"Some of them just mesmerized us," she added. The Richland show will feature six singers, she explained.
Vlieger, who is the sister of Sunnyside City Councilman Don Vlieger, said she has been singing since elementary school and has been a Sweet Adelines member for nearly six years. She now serves as the business manager for the Rolling Hills chapter.
She thanked the Sunnyside Kiwanis for its support of the music scholarships, saying the Sunnyside group's $150 contribution will become part of the $600 in scholarships to be awarded to the first, second and third place winners.
Tickets the Friday, Jan. 28, show are available at the Daily Sun News, 600 S. Sixth St., and will also be available at the door, Vlieger added. Tickets are $10 for adults, $8 for students and senior citizens. A special family ticket is available at the cost of $25 for a family of five.