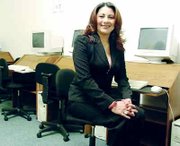 For the past five years basic skill training has been more accessible to the residents of the Lower Valley.
When Gloria Mendoza opened the doors of GMC Training Institute in Grandview her goal was to provide training opportunities to all people.
Much of Mendoza's career has been working in the education field.
She started working as a secretary for a radio program before she was hired as a receptionist at Washington State Migrant Council.
Working her way through school, Mendoza became a chemical dependency counselor, which gave her more opportunities at the Migrant Council. She spent the last of her time with the Migrant Council working with employment and training.
"I saw there was a need for bilingual training," said Mendoza. "I wanted GMC Training Institute to serve anybody, whether they could speak the language or not."
Mendoza found that many employers in the area required employees to know the ins and outs of technology, whether or not they spoke English.
The Grandview native opened the doors to the institute and growth has been sustainable. In fact, she anticipates having to expand this year. With her hopeful expansion, Mendoza anticipates having more classrooms where her night classes can be held and additional contract learning with local agencies.
Offering the only commercial driver's license classes in the Lower Valley, as well as computer technology, advanced computers, forklift certification training, general equivalency diplomas, English as a second language, job readiness and citizenship classes, the school is busy most of the year. Mendoza added that the 500 students served annually can grow to as many as 750 with customized training they provide agencies such as Labor and Industries, People for People and Yakima Valley OIC.
Often asked why she chose to open in Grandview rather than Yakima or the Tri-Cities, Mendoza said it was important for her to start her school somewhere she wanted to be and was motivated to succeed.
One of 10 children, Mendoza said her nieces and nephews are growing up in Grandview, as is her own family. Staying near family and a community she loves is important to her.
"I'm going to make sure I'm going to make it work because I am in the community I grew up in," she added.
As the president and owner of GMC Training Institute, Mendoza oversees the everyday activities of the school, plans the courses to be offered, finds instructors and secures contracts with outside agencies, but she also finds it important to work closely with her students. She teaches a citizenship class.
"One of the reasons I decided to teach a class was, I wanted to have the contact with the students and find out what the students' needs are," she said.
Mendoza said students in citizenship classes need a lot of motivation to complete the course.
"It's easy for the student to get discouraged if someone is not there to push and motivate them," she said, explaining that some portions of the class require students to answer in English, which can be frustrating to those which English is their second language.
Citizenship classes are very popular, said Mendoza, but the most popular class offered at the institute is the commercial driver's license course, followed by the fork lift courses.
Working with more than just migrant farm workers looking for a better income, Mendoza said the mix of students is about 50 percent dislocated workers from Labor and Industry.