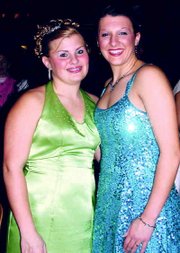 PULLMAN - Pullman was a bustling center of activity last week, as 32 high school seniors from around the state gathered in the eastern Washington community to take part in the 47th annual Washington Junior Miss competition. Among the 32 girls were Grandview Junior Miss Jody Davis and Prosser Junior Miss Kendra Cabbage.
Both girls spent the week working from 8 a.m. to 10 p.m., learning routines, working out and getting to know each other as they prepared for three nights of competition.
The 32 candidates competed in five categories over three nights, last Thursday, Friday and Saturday. They were judged in the categories of scholastics, interview, talent, fitness and self-expression.
Davis said although the week was a busy one that included sore muscles and long days, it was an experience she will never forget. She said she had a chance to make friends with girls from all over the state.
Davis said she exchanged phone numbers and email addresses with a number of Junior Miss teens who she plans on keeping in contact with, noting that they are already making plans to get together over the summer.
Cabbage said the thing she enjoyed most about getting to take part in the state Junior Miss program was the chance to meet other people.
"I made wonderful friends last week," Cabbage said. She added that she made friends with several girls who are planning on attending Central Washington University in the fall, the same college Cabbage is planning to attend.
While in Pullman, the Junior Miss competitors stayed with host families in the community. During the week, they were not allowed any direct contact with friends and family from back home. Instead, they were only allowed to communicate through letters. After going a week without talking to their families about the experiences they were having at the state competition, the girls were finally reunited with their loved ones Saturday afternoon, before the final night of competition.
Davis said when she finally got to talk to her parents in person she wasn't sure what to say first. She added that although she didn't talk to her parents all week, during Thursday and Friday night's competition she was able to spot them from the stage.
"It was kind of weird not talking to them for a whole week," Davis said.
Instead, Davis said she spent time talking to her roommate, Newport Junior Miss Amy Hunt, about everything from missing her family to the unique experience they were sharing at the state competition.
The 2005 Washington Junior Miss title ultimately went to Stephanie Eng, 2004 Colfax Junior Miss. Eng's talent was a combination of public speaking and Chinese calligraphy. She told the story of how her grandmother fled Communist China in order to give her family new opportunities in the United States.