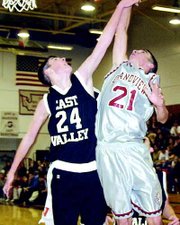 The Grandview High School boys basketball team overcame two significant challenges this past weekend. And, the Greyhounds did it together as a team.
Friday night, the Greyhounds, ranked seventh in the state's Associated Press polls, traveled to ninth-ranked Naches, knocked off the Rangers, 66-54.
The following evening, Grandview defeated always tough East Valley 79-70 in an overtime thriller.
While Friday night's game against Naches marked the return of Grandview's big man, Chris Mejia, the evening belonged to James Vela.
Vela scored a game-high 23 points. Grandview Coach Scott Parrish said Vela put on quite a performance against Naches.
Parrish said Vela stood out with the way he was able to penetrate the match-up zone defense the Rangers threw at Grandview.
"He just really penetrated," said Parrish.
Grandview outscored the Rangers by 18-15 margins in both the first and second quarters.
The Greyhounds pulled away with a 19-14 run in the third quarter and finished the game off with an 11-10 outburst in the final period.
Parrish said Naches is really good defensively and in rebounding.
"They pretty much limit you to one shot," he said. "We got a lot of good shots around the basket."
Parrish said Grandview was able to extend its lead in the second half, when the Rangers went away from their match-up zone to straight man. Parrish said his players' athleticism really came to the forefront.
Mejia looked really good in his return to action, following knee surgery a couple of weeks ago. Mejia finished with 19 points. Parrish said Mejia looked as if he never had been off the court, penetrating to the basket.
Grandview's defense was also big, forcing 20 turnovers.
Parrish said Grandview also had a nice night at the free throw line.
The big key for the Greyhounds offensively was being able to take care of the ball.
"We didn't have any silly turnovers," said Parrish.
Saturday night was a battle of two very athletic teams. The Greyhounds, though, took advantage of a couple of East Valley mistakes in overtime to pull away 79-70.
"I knew it would be real difficult to beat these guys," said Parrish. "We were able to keep it together."
What made it even harder for the Greyhounds was the foul trouble Grandview got in. Mejia, Adam Dion and Brad Copeland each racked up four fouls in the game. The only player who wasn't in any real foul trouble was Vela, who didn't pick up his first foul until there were a couple of minutes left in the fourth quarter.
What was notable about Saturday's game was the way Grandview responded, especially the bench.
"I was real pleased with our bench," said Parrish.
Parrish said the aggressive play of Frankie Medina was key for Grandview, especially in the first half.
Grandview led 30-26 at the break. The Greyhounds looked as if they were going to put the game away in the third quarter.
At one point in the third quarter, East Valley trailed by 13 points. Parrish said his team just came out of the locker room at the half fired up.
In the third quarter, East Valley got away from the success they had in the first half, where they matched up well with Grandview in one-on-one situations. After a timeout in the third quarter, the Red Devils came out in a man defense and caused Grandview all kinds of fits.
"We turned the ball over a couple of times," said Parrish.
The Red Devils whittled away at Grandview's lead and tied the game up with only seconds left when East Valley's Kevin Smith drained a 3-pointer to send the game into overtime.
Grandview had a huge defensive stop in overtime. The Red Devils came out trying to stall early in the overtime. East Valley, though, wasn't able to convert on its shot.
"That was a huge stop," said Parrish.
The Red Devils were forced to foul in overtime. Anthony Andrews was big at the foul line, hitting four free throws. Vela and Mejia added two free throws apiece.
"It was a great weekend for us," said Parrish.
Grandview (4-1, 11-2) travels to Othello this Friday night.
1 2 3 4 T
Grandview 18 18 19 11 66
Naches 15 15 14 10 54
Scoring: Grandview-James Vela 23, Chris Mejia 19, Anthony Andrews 11.
Naches-Matt Clark 23.
1 2 3 4 5 T
East Valley 17 9 23 20 1 70
Grandview 18 12 24 15 10 79
Scoring: Grandview-James Vela 16, Anthony Andrews 15, Chris Mejia 14, Adam Dion 12, Cordero Cisneros 8, Frankie Medina 6, Brandon Artz 4, Brad Copeland 4.
East Valley-Kevin Smith 25, Matt Snell 21.
Rebounds: Adam Dion 7.
Assists: James Vela 8.