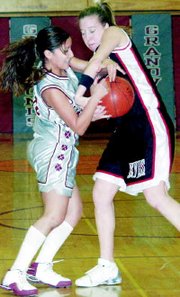 Everything looked good for the Grandview Lady Greyhounds as they went up against Naches last Friday, but things took on a different spin as the Grandview team faced East Valley the following night.
Grandview split its weekend games, beating Naches 57-52 but falling to East Valley 61-38.
Friday night, Grandview Coach Adolfo Hinojosa said his team looked good, and managed to control the tempo of the game up through the third quarter.
"Naches is a good team and they made a run in the fourth quarter," Hinojosa said, noting that Naches outscored Grandview by seven points in the final quarter of the game.
Hinojosa said he was proud of how well his team handled the pressure of Naches as it fought back.
"Naches is a good team," he said. "And good teams will make a run."
But while the Naches team was working to make up points in the last few minutes of the game, Hinojosa said his team held its composure.
"That's something that will come into play in the future," Hinojosa said of his team keeping its cool.
Helping lead the Lady 'Hounds on the court against the Rangers was junior Ashley Luper. Luper finished the game with 19 points, 14 rebounds and was 11-for-17 from the free throw line.
"She had a really good night," Hinojosa said of Luper.
Saturday night, when the Lady 'Hounds took on East Valley, Hinojosa said it looked like his team had left half of its energy somewhere else.
He said the Lady 'Hounds just weren't hitting their shots in the first half, while everything the Red Devils were putting up was hitting the target.
"East Valley just came out sharp," Hinojosa said. "Their players seemed a lot fresher."
Although Grandview struggled in the first half, going into intermission 13 points behind the Red Devils, Hinojosa said his team came back and ratcheted up the pressure.
"We showed signs of not giving up," he said.
Hinojosa said the deciding factor Saturday night was all in the number of shots made be each team. He said Grandview shot 44 times against East Valley, only hitting 11 of those. On the other hand, East Valley put up 32 shots and made 23.
"East Valley just hit every opportunity," Hinojosa said.
Despite losing to the Red Devils, Hinojosa said he gives credit to his team for turning up the intensity in the second half and not giving up.
The Lady 'Hounds (3-2, 7-6) will take to the court again this Friday at Ellensburg.
Grandview 20 11 13 13 -57
Naches 9 11 12 20 -51
Grandview- Luper 19, Cornejo 11, J. Rodriguez 24, Martinez 2, Wysong 1.
East Valley 18 7 21 15 -61
Grandview 4 8 12 14 -38
Grandview- Hinojosa 3, Luper 1, Cornejo 8, D. Rodriguez 1, J. Rodriguez 18, Martinez 2, Wysong 5.