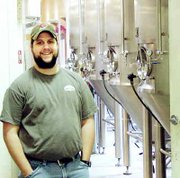 Snipes Mountain Brewing is quickly adding to its reputation as a quality maker of beers.
The local brewery recently added to its list of accolades by bringing home two silver medals from the 2004 World Beer Championships.
Snipes was awarded with silver medals at the World Beer Championships for its Porter and Crazy Ivan's Imperial Stout.
Tony Savoy, head brewer at Snipes, said he sent the beer off to qualify for the 2004 championships in late December. He just learned last week how his beer did at the competition.
On a scale of 100, Snipes' Porter scored an 88 while the Stout scored an 89. Savoy pointed out that the beginning marks for a gold medal is 90.
"We are on the high end of silver," he said.
Savoy has been a brewer for 10 years, having worked at Snipes for just over a year. This marks the first time in his career that Savoy has been recognized for his work.
"It has been a good year for us," said Savoy.
In all, Snipes Mountain Brewing captured seven awards in 2004. Some of the other awards Snipes earned last year came from the World Beer Cup and the Great American Beer Festival, which is the largest such event in the country.
Savoy said by winning these awards it helps in the marketing of the Sunnyside brews. Savoy said Snipes is really starting to put Sunnyside on the map as far microbrewing.
Snipes currently distributes its products around the Northwest, including most all of Washington, Western Oregon and in Boise, Idaho.
Savoy said he is pleased to be recognized for his work at the different events.
"It is nice. It makes me feel good," said Savoy. "But the ultimate reward is having the people who drink it enjoy it."