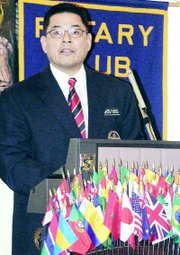 Frank Villanueva, the new executive director of the Chief Kamiakin District of the Boy Scouts of America, has memories of traveling to summer camps and winter retreats with his scouting friends.
He still remembers sitting around a campfire with 50 or 60 other boys for the Order of the Arrow tap out. As he sat around the fire the sound of Indian drums began pounding in the background. As the drums grew louder, he remembers seeing people dressed in full Indian regalia come out of the woods and select those to be part of the Order of the Arrow.
"I remember sitting there wondering why I wasn't chosen," said Villanueva, the guest speaker at this past Monday's Sunnyside Noon Rotary Club meeting.
Remembering back to a winter camp, Villanueva recalled making snow caves near the America River. He told of walking out onto the ice and remembering thinking that it may not be a smart place for him to be just before the ice broke, dunking him into the water.
Walking back a quarter of a mile to camp with his assistant troop leader, Villanueva remembers the concern his leader showed towards him.
"Right there I knew there were caring adults in this world outside my parents," he said.
The Boy Scouts camp experience is a tradition that continues today.
Villanueva said the Chief Kamiakin District reaches from Union Gap to Prosser up into the Bickleton and Roosevelt area. There are 45 units and 800 youths participating in the programs, which include Cub Scouts, Boy Scouts, Varsity teams, Venture crews and Explorer posts. The Chief Kamiakin District has 400 volunteers and is served by three camps.
It is one of five districts that make up the Grand Columbia Council, which stretches from Canada to Oregon.
Teaching character, citizenship and mental and physical fitness to boys has been the goal of the council, which was founded in 1942. Today, there are programs beginning at the eighth grade level that incorporate young girls.
In Sunnyside, there are at least two Venture groups and an Explorer post, of which young women can be a member.
The Venture crew at Sunnyside High School is co-ed, as is the Explorer post at the Sunnyside Police Department.
Villanueva explained that Venture groups are designed to develop leadership in young people. Explorer posts are usually developed by a hospital, fire department or police department. Each takes on the responsibility of teaching the young people about a career field.
The Venture groups at Sunnyside High School and Our Saviour's Lutheran Church in Sunnyside have been attending seminars on winter survival for the past three months in preparation for a camping trip in February.
Villanueva said the teens will be making igloos as part of the adventure.
In preparation for the trip the teens have learned how to dress for winter and have learned saw building, so they will be able to cut the blocks of ice and snow needed for their igloos. They have also taken a first aid class, focusing on hypothermia. They will also be taking a cooking class.
Since taking over the leadership of the Chief Kamiakin District, Villanueva said his goal has been to make Boy Scouts as fun as possible for all involved. He added that this year the district received a National Quality District Award because of a net gain in units, 3 percent membership growth and growth in volunteers.