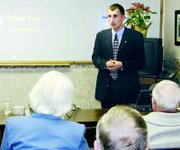 New Sunnyside Economic Development Association Director Rado Harrington spoke to those attending the Sunnyside Chamber of Commerce after-hours event Tuesday night about successful strategies for economic development.
"Sunnyside is poised for greatness," said Harrington, who has been working to create a business friendly environment in the community.
In the past five months, SEDA has been working to get back to the roots of economic development, said Harrington. He said the agency offers business development and counseling. Services are free to members, he added. As SEDA is redefined, Harrington plans to have workforce education and training for entrepreneurs and women in business. He also anticipates holding classes on the financial aspects of business and to focus on business relocation and development and business relocation support. Working with partners such as the Port of Sunnyside and the Sunnyside Chamber of Commerce, attracting business will be a group effort. Within the first three or four weeks Harrington was working for SEDA, he said that four companies contacted him about relocating in Sunnyside.
Harrington said there are three secrets to a successful business person. They work hard, are dependable and are loyal to what they are doing and the organization of which they are a part.
Harrington outlined 10 secrets of success as listed by Investor Business Daily as part of his presentation.
First of all, he said, how you think is everything. He said it is important to be positive and think of success, not failure.
"Failure in business comes from one thing, giving up and quitting," said Harrington.
The second step, he said, is to decide upon true dreams and goals and to write them down. He said it is important to be specific when listing goals. His vision is that Sunnyside become a regional hub of business.
Taking action is the next step to success. He said without action, dreams and goals are nothing.
"Never stop learning, " he said. In the fourth step, he encourages people to go back to school and read to keep up with trends and new business strategies.
The next secret, said Harrington, is to be persistent and work hard.
"Success is a marathon, not a sprint," he said.
He said learning to analyze and learning from other peoples' mistakes is the next step to being successful.
The seventh secret is to focus time and money.
"Don't let other people or things distract you from your goals," he said.
Next, he said, don't be afraid to be innovative and different.
"SEDA wants to be a trend setter," he said.
The ninth step is to deal and communicate with people effectively.
Finally, he said, it is important to be honest, dependable and take responsibility. He said if the last secret is not followed than the others don't matter.
Focusing on business development, retention and expansion, Harrington said SEDA wants to build on the successes of the Port, Chamber of Commerce and Sunnyside Inc.
"We want to be able to build trust in the community and get the word out that we're here to serve," said Harrington.
The challenge is that most people think of economic development as making an economy bigger.
"The goal is to make things better," he said.