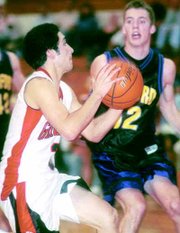 As good as advertised! The Sunnyside Grizzlies won't argue that point when it comes to the play of the Hanford boys basketball team.
The unbeaten and state ranked Falcons flew into Sunnyside Tuesday evening and soared to an 80-52 victory. The Mid-Valley League contest, for all intents and purposes, was over by halftime, as Hanford jumped out to a 41-16 lead.
"If they (Hanford) aren't playing in Saturday's title game at the State tournament, I'll be amazed," said Sunnyside Coach Steve Urrutia. "A team like that doesn't come along very often."
Hanford had three players who scored in double figures, but it was Admir Beribak who shouldered the offensive load. Beribak, enroute to canning a game high 32 points, popped in 22 of the Falcons' 24 first quarter points. He had the magic touch from long range, connecting for five of Hanford's seven 3-pointers.
In scoring just 16 points in the opening half, Sunnyside displayed ragged play.
"The first half we were disappointed," said Urrutia. "We didn't compete.
"We didn't get into any of our sets.
"The second half, we played smarter. We were running our sets and they were working. I'll say this about our kids, they played hard to the end," he added.
The Grizzlies stayed with Hanford after intermission, as the Falcons only outscored Sunnyside by a 39-36 margin in the final two quarters.
Urrutia refused to make any excuses for last night's loss. But it should be noted that Sunnyside was playing without its big man, 6'6" Jake Thomas, out with strep throat. Also, another Sunnyside senior, Cody Heckert, was playing with a pinched nerve in his neck. With limited mobility, Heckert contributed just 1 point.
Picking up the scoring load for Sunnyside were senior Efren Duran and junior Derrick Simmons. Duran and Simmons combined for five 3-pointers in the game and totaled 25 points between them. For Duran, the first ever PRIDE Alternative High School student to make the Grizzly hoop roster, his team high 13 points was a career best.
"He was one of our team leaders out there last night," said Urrutia. "Efren was very vocal, trying to rally the troops on defense."
Sunnyside, too, received solid, all-around strong play from senior Reid Schilperoort. The well-defined, 6'3" Schilperoort muscled his way inside the paint and came away with a game high 10 rebounds. He also contributed 11 points.
Likewise, senior Tony Cantu offered the Grizzlies some help by firing in three shots from treyland.
In assessing the numbers from last night's game, the two most glaring differences are in the field goal shooting numbers and the number of free throws attempted by each team. Hanford was 19-for-27 from the charity stripe compared to the Grizzlies' 4-for-8 stats. From the field, the Falcons hit 62 percent of their 2-point attempts. Sunnyside shot just 32 percent from the field.
In looking ahead, Sunnyside (2-6, 6-10) travels to Ellensburg this coming Friday. The following week, the Grizzlies close out conference play against Selah, Prosser and Wapato.
"We really think we should be in the rest of the games," said Urrutia. "If Cody (Heckert) and Jake (Thomas) are healthy this Friday, we believe we have a shot of pulling off a victory at Ellensburg. Then, if we get on a roll and finish out the regular season strong against Selah, Prosser and Wapato, we might have some momentum going into the District playoffs."
Hanford 24 17 16 23 -80
Sunnyside 9 7 16 20 -52
2-pt. FG-Hanford 20/32, Sunnyside 12/35. 3-pt. FG-Hanford 7/20 (Beribak 5), Sunnyside 8/27 (Cantu 3, Duran 3, Simmons 2). FT-Hanford 19/27, Sunnyside 4/8. Rbd.-Hanford 36 (Severin 9), Sunnyside 27 (R. Schilperoort 10). TO-Hanford 15, Sunnyside 14.
Hanford-Caffey 13, Curry 0, Collins 6, Beribak 32, Moore 4, Johnson 0, Angerman 2, Begalka 2, Hedgecock 5, Bird 11, Severin 5.
Sunnyside-Cantu 9, Simmons 12, Heckert 1, L. Schilperoort 2, Crimp 2, R. Schilperoort 11, Montelongo 2, Duran 13, Engle 0.