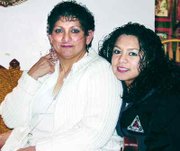 GRANDVIEW - For years, Ofelia Castilleja thought she suffered from lupus, a debilitating disease that attacks the body's connective tissue and organs. It was a disease that took one baby daughter and forced her to adapt to a very restricted lifestyle. Her life took yet another restrictive turn when doctors determined she doesn't suffers from lupus, but faces something even more life threatening.
The Grandview mother of four learned late last year she is suffering from pulmonary fibrosis, a condition which is forcing Mrs. Castilleja to face one of the most difficult situations of her life. She must undergo a lung transplant as soon as possible.
"There are no ifs or maybes in that decision," explained her daughter, Monica Castilleja, who is taking care of her mother, now on oxygen therapy 24-hours a day.
"We found out in August 2004 that our mother's lungs were rapidly deteriorating," the younger Castilleja explained.
Since last March when the family began to suspect that their mother's health condition has taken a turn for the worse, they have spent most of their time consulting with doctors and specialists. In August, the specialists reached the alarming conclusion that Mrs. Castilleja's lungs were in danger of failing.
"Mother needs the operation, which her doctors insist must happen very soon," said her only daughter.
In fact, she must be ready by March 1 to undergo the lifesaving surgery, which has a very high recovery rate.
It's a diagnosis which has rattled the close knit, little family and one which is creating a financial strain on the family's finances. To help her mother during the recovery process, which will take up to six months following the surgery, Monica Castilleja said she plans to take a leave from her job at the Sunnyside Safeway store in order to stay with her ailing mother.
"We do have some medical insurance, but it won't be enough for all of the post-surgery expenses or for the additional living expenses which are needed to aid Mother in her recovery," said Monica Castilleja.
The complicated part of the scenario is that part of the Castilleja family must move to Seattle with Mrs. Castilleja in order for her to be near the University of Washington Medical Center, where the transplant surgery will be performed.
"Mother has always lived in Grandview," said her daughter, adding that is where her parents have lived all of their married life and where they have raised their three sons and daughter.
"It's very hard for me to think about being away from my home, my husband, Mario, my children and my little grandchildren," said the 43-year-old woman.
As yet, Mrs. Castilleja isn't sure of the date of her surgery, only that she must drop her weight to 165 pounds before she qualifies for the transplant.
"I'm working hard on that," she said. "But it has been hard because the medicines I'm taking cause me to gain weight," she explained.
Still, she said she is trying to trim down, between her regimen of respiratory therapy which she takes three times a week and her chemotherapy treatments.
"This has all been very hard," she said.
"We are seeking some help from the community," said the younger Castilleja. We are asking anyone who has the means to help us by donating anything possible for our mother," she added. Cost estimates facing the family include the lung transplant, which is expected to cost in excess of $200,000, not including the more than $5,000 a month medication tab which will face the woman for the rest of her life.
In an effort to collect additional funds for their mother, the Castilleja children are setting out donation jars on the counters of stores in Grandview and in Sunnyside.
In addition, they plan to open an emergency medical account at the Grandview branch of Washington Mutual Bank, where people may also make contributions.
"We know it is going to take Mother a long time to become as strong as she once was," said Monica.
"But we're hopeful that with time we will be able to bring her back as the person she once was, back in her beautiful hometown and able to see her grandchildren grow up," said Monica.