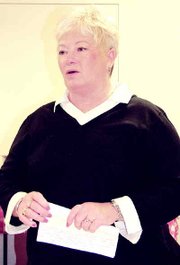 For Chief Kamiakin Elementary School Library Assistant Marge Zylstra, volunteering her services to the Lower Valley Relay for Life is something that helps her do something to fight the disease that took the life of first her best friend and most recently her sister.
"It represents the hope that those lost to cancer will never be forgotten," Zylstra said Wednesday morning about the Relay for Life event.
Zylstra, who served as the speaker for the Sunnyside Daybreak Rotary Club and is the chair of recruitment for the local relay, said every year more than 2 million people from throughout the country gather on the same weekend to walk, this year May 14-15, and raise money for the American Cancer Society. The money raised goes to help fund cancer research and support the organization's many educational and community service programs.
Although each of the relays held throughout the United States are different from community to community, there are major elements they each have in common. Wherever there is a Relay for Life there is a track, teams, tents and lumaneria, as well as a first lap dedicated to cancer survivors.
Zylstra said Relay for Life is something that was started in 1985 after a doctor lost several of his patients to cancer. She said he decided that something needed to be done to raise money for cancer research. In order to do his part to raise money, the doctor walked around a track for 24 hours and in doing so raised $27,000. That was the first Relay for Life.
Zylstra said she feels it's important for people to take part in the annual event.
"It's really important to get out there and raise some money," she said. "Twenty-four hours out of your life is really not too much to give if you're going to help someone else."
Zylstra said anyone interested in learning more about how to take part in the Lower Valley Relay for Life are invited to attend an informational social scheduled to take place Tuesday, Feb. 8, at 5:30 p.m. at the Immanuel Lutheran Church at 300 Euclid Rd. in Grandview.