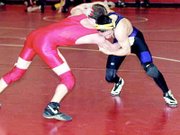 GRANGER - "We saw the good, the bad, and the ugly," said Mabton Coach John Kilian.
That was how Kilian summed up last night's double-dual league meet against Granger and Goldendale.
Mabton had been scheduled to host the double dual, but the event had to be moved to Granger after a water pipe burst in Mabton and left the school without any water.
The Vikings (4-1) overcame 24 forfeit points to beat Granger 39-30 in the first outing of the night. Mabton wasn't quite as fortunate against Goldendale, losing 38-12. The Vikings won by pin in five of the eight contested matches against the Spartans.
The loss to Goldendale takes some of the luster out of this coming Thursday's match at Zillah, which was expected to decide the league championship.
"We wrestled very well against Granger," said Kilian. "Against Goldendale a bunch of them forgot how to wrestle. We match up pretty close with these guys. We just lost some close matches."
Michael Clark started the evening for the Vikings at 140 lbs. Clark had a relatively easy time, pinning Granger's Pedro Navarrete in 1:57. Clark wasn't as fortunate against Goldendale's Daniel Sanchez, dropping a 10-3 decision.
At 145 lbs., Mabton's Jovani Ochoa pinned Kenny Antill in 58 seconds. Ochoa lost a 12-5 decision to Goldendale's Cody Hamilton.
The Vikings forfeited matches at 152 and 160 lbs to Granger's Daniel Lopez and Mike Salcedo, respectively. Mabton forfeited the 152 lb. match to the Timberwolves.
Mabton's Cesar Macedo held on in his 171-lb. match against Granger's Ky Shinn, winning 8-6. Kilian said Macedo usually wrestles at 160 lbs., and came in about 15 pounds lighter then Shinn for the match. Macedo lost a thriller in overtime to Goldendale's Saul Lasolla, dropping a 15-13 decision. Macedo wrestled at 160 lbs. against Goldendale. Macedo was ahead 7-1 at the end of the first period, but Lasolla battled back, getting five takedowns to win the match.
The Vikings forfeited at 171 lbs. to Goldendale.
Granger's Jose Morales won by pin over Eli Perez at 189 lbs. Perez also lost a 22-6 technical fall to Goldendale's Vance Schafer.
At 215 lbs., Mabton's Robert Marquez made short work of Granger's Ivan Ramirez, winning by pin in 33 seconds.
"He took him right down and got the job done," said Kilian.
Marquez met up with Goldendale's Chas Warner at 215 lbs., losing a 6-4 decision.
"It was a good match," said Kilian. "They will be battling at Districts."
The Vikings forfeited at 275 lbs. to Granger's Eric Lopez.
Neither Mabton nor Goldendale fielded a heavyweight wrestler.
There was no match at 103 lbs against Granger.
The Vikings forfeited the 103 lb. match to Goldendale.
Mabton's Luis Aviles (112 lbs.) pinned Rodrigo Altamirano of Granger in 1:03. Aviles is the pin leader for the Vikings with 17. Aviles then dropped a 13-7 decision to Goldendale's Aaron Ferch.
Neither Mabton nor Goldendale fielded a wrestler at 119 lbs.
At 119 lbs., Mabton's Andy Torres pinned Josh Russell of Granger in 2:43. Torres was ahead 8-1 at the time. Torres bumped up to 125 lbs. for his match with Goldendale, pinning Nick Damolt in 28 seconds.
There was no match at 125 lbs. against the Spartans.
The Vikings forfeited the 130-lb. match to Granger's Horlando Ramirez.
Mabton nor Goldendale fielded a wrestler at 130 lbs.
Marco Zepeda won the final match against Granger at 135 lbs., pinning the Spartans' Ray DeLeon in 3:46. Zepeda also recorded a pin against Goldendale, defeating Lance Stevens in 3:08.