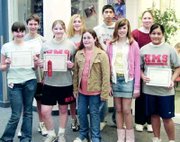 GRANDVIEW - Answering complicated math questions under pressure is not something many people would exceed at, but 11 students from Sunnyside's Harrison Middle School recently brought home awards for their efforts doing just that.
The math teams from the local school recently took part in the Mid-Valley Math Competition, held at Grandview Middle School. The seventh grade team took first place honors in the categories of mental math, geometry and potpourri, while team B, the second of two eighth grade math teams, took second place in probability.
Thalyne Carey, a teacher at Harrison Middle School, said the students have been working to prepare for the competition since November. She said each of the 11 students that make up the three math teams was given a packet filled with different types of math problems to work on, which they did at their own pace. She noted that with all of the students' different schedules it was difficult to get everyone together to practice.
But practice time didn't seem to matter when the teams came together for this past Monday's competition. She noted that once they get to the competition each of the teams work together to solve math problems, with a team captain having the final word as to which answer the team officially submits for each problem.
Carey said the math competition is something that takes place every year, and something that Harrison Middle School students seem to enjoy.
"It's an opportunity for them to really use their brain, and compete against other schools," Carey said.
Members of the seventh grade math team include Eric Desmarais, Kendra Meeker, Hailey Moore and Maggie Waggoner. Members of eighth grade math team A include Tristan Abbott, Ashley Bridges, Sarah Kilian and Jacob Rogers; and members of eighth grade team B include Crystal Chiprez, Oscar Zamorano and Hannah Vlieger.
.