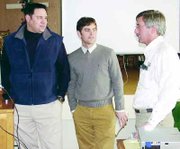 BUENA - Getting consumers to eat Washington-grown peaches and nectarines is at the heart of a marketing plan that is now spreading across the United States. Encouraging consumers to "Taste the Difference" in Washington grown fruits is at the heart of a national advertising campaign being used in markets from coast to coast and even in some international markets.
Through the use of television advertising and print media campaigns, the Heart of Washington campaign is showing up in grocery stores from Maine to California.
The Washington peach is gaining ground in its ongoing competition for shelf space with California-grown peaches and other soft fruit.
"California has done a great job of pushing its soft fruit. But we (Washington growers) are continuing to grow some of the best quality peaches in the nation," said B.J. Thurlby of the Washington State Fruit Commission.
"We are continuing to increase our efforts to convince consumers to be pick up our fruit at the market and our efforts are beginning to pay off," he told the more than 40 soft fruit growers who attended the annual Yakima Valley Soft Fruit Day held at the Buena Grange last week.
"American consumers are beginning to notice the difference and our sales are beginning to increase," he said.
He quoted an article in the Sacramento Bee as saying Washington peaches and other soft fruit is better fruit and is the nemesis of the California market. "California is leading in marketing of peaches but we are closing in," he said.
He said Washington growers need to renew their efforts to gain the attention of the national retail groups. California still has 80 percent of the market while Washington's soft fruit market continues to hold strong in the Northwest, Thurlby said.
The thrust of the Washington campaign is to increase consumption of peaches, he explained.
"We are taking our message to the retailers, telling them we have a better piece of fruit and they should be making it available to their customers," he explained.
"We have developed advertising programs, which focuses on the top 50 retailers in the nation and we are seeing it take root in large markets such as Chicago," Thurlby said.
He said the Washington growers' biggest competition from the soft fruit market continues to be California growers, who begin marketing their peaches earlier than Washington growers.
In addition, they are able to continue the harvest as late as the first week of November, he said.
"But we are continuing to focus our efforts on convincing buyers that we have a higher end product. They need to be giving the consumer something better and we have it," Thurlby said.