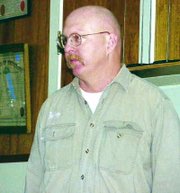 BUENA - Can pruning a peach tree vigorously help produce more and better fruit?
If you are pruning to increase fruit size, maybe not, claims Kevin Day, a fruit tree advisor from the University of California at Davis.
An expert in tree architecture, Day contents that heavy pruning may not be in the best interest of growers.
He doesn't dispute that early pruning ought to be done in April to force growth, but he doesn't think farmers ought to be heavily pruning the trees later in the season.
In addition, Day advocates angling out the upper branches of the tree to allow more area for fruit to grow.
Day was one of the guest speakers at the Yakima Valley Soft Fruit Day held last Friday in Buena. He showed slides of his theories being put into practice now being used in California. He later took the more than 40 area farmers on a pruning and training tour of a peach orchard on Konnowac Pass.
Day said the wider surface, which he advocates allows for more light to get to the fruit, which not only increases its size, but its quality.
"We already know that the best fruit grows at the top of the tree," Day said. "Why not make it easier for the fruit to also get the best light?
Day said California farmers are finding that by angling the tops of their trees into what appears to be a table like surface, the quality and size of the soft fruit is beginning to improve.
He advocates the approach as one way for farmers to reduce labor costs.
"By pruning the trees to just 8 feet tall and widening the tops of the trees, pickers have an easier time of harvesting your fruit," Day said.
"You are not paying for having the ladders moved through the orchards and more for actual picking of fruit," he said.
He suggested farmers only do a minimal pruning after the first leaf, which will force early growth. He suggests farmers shape the trees later in the season to open the fruit to more light.
He said the new pruning process may take several years to achieve the desired results.
"But I think you will see some amazing results. It's something to think about," he added.
.