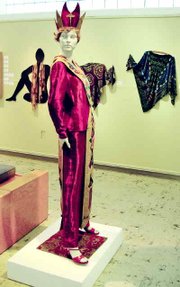 YAKIMA - Larson Gallery is hosting the eighth biennial Art To Wear Juried Exhibition, a national juried exhibit of original art that includes anything that adorns the body.
The exhibit continues through Feb. 19, at Larson Gallery on the Yakima Valley Community College campus, 16th and Nob Hill.
The Larson Gallery Guild announced the 2005 winners at the opening reception on Jan. 16.
Artists from both coasts and the center of the United States make the Art to Wear Juried Exhibition truly a national show. Eight states are represented among the 60 designers whose works are displayed: California, Kansas, New Hampshire, New Jersey, New Mexico, New York, Oregon and Washington.
A total of $3,040 in awards, including $500 for the Larson Gallery Guild Best of Show award, has been presented to 20 artists. Additionally, nine received honorable mention honors.
The jurors' joint statement said that "from the smallest piece of jewelry to the voluminous multi-layer costume, [we] were torn between the intimate and precious and the expansive and playful." The two judges added that "we appreciated the willingness of the fabric artists to step out of their comfort zone."
The 2005 award winners include the following:
$500 Larson Gallery Guild Best of Show - Caryne Finlay, Livermore, Calif, "Dragonfly Ensemble."
$300 Robert and Donna Villbrandt Purchase Award - Lucy Valderhaug, Yakima, "Unlucky in Love."
$200 Recognition Award for Excellence - Anita Mayer, Anacortes, "Fall Memories."
$200 Banner Bank Award - Marty Lovins, Yakima, Untitled.
$150 Megan Purchase Award - Christine McNeil, Ellensburg, "Casualidad a Medianoche."
$150 Hassen Fisher Studio Purchase Award - Joan CawleyCrane, Ellensburg, "Pearls of Wisdom."
$150 Kokenge Award for Best of Embellishment - Debbie Bone-Harris, Kennewick, "Mardi Gras."
$150 Betty Mortimer Rood Purchase Award - Sandy McKellar, Moxee, "Tinsel Town."
$140 Anything Goes Quilters Award for Excellence in Clothing Design - Nancy Bryant, Corvallis, Ore., "Homage to Madame GrËs."
$100 Oak Hollow Best Use of Color and Texture Award - Vicki Gerton, Richland, "Traveler."
$100 The Bed and Body Company Award - Lucy Valderhaug, Yakima, "The Gate to Heaven is Open."
$100 South of the Rio Bravo Award - Kevin Barry, Brooklyn, NY; "Crocheted Pleats."
$100 Dunbar Jewelers Award for Creative Design in Jewelry - Winona Reiman, Ellensburg, Untitled.
$100 Fiddlesticks Award for Fabrics at Their Best - Deborah Idaka, Rindge, N.H., "Shibori on Devor."
$100 Bernina Sewing Center - Gift Certificate - Joan Neubauer, Yakima, "Forest Feeling."
$100 Yakama Nation Museum Award - Lee Wright, Yakima, "Opal Horse Head."
$100 Jim and Sally Fitch Award for Unique Cultures - Anita Mayer, Anacortes, "Prayer Flags: India Goddess of the Sun."
$100 Greta Atwood Memorial Award sponsored by Linda Frazer and Fran Dew - Ron Gerton, Richland, "Trusted Friend."
$100 Award for Excellence in Fabric Art - Carolyn Schactler, Yakima, "A Tribute to Dinotopia."
$100 Parry Jewelers Award - Stephanie Williams, Ellensburg, "Ruffles."
Honorable mentions: Sharon Cahn, Sebastopol, Calif., Joan Cawley Crane, Ellensburg, Karen Defferding, Kennewick, WA Helen Jones, Ellensburg, Laurie Kanyer, Yakima, Christine McNeil, Ellensburg, Mary Miller, Friday Harbor, Tom Stoll, Selah, and Blythe Whiteley, Moses Lake.