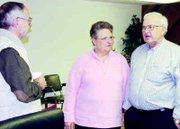 After 37 years of selling State Farm Insurance, Pete Sartin is retiring, turning the reins over to his son Ben.
An open house in his honor was held Thursday and friends, family and clients visited with the long-time Sunnyside resident, wishing him well on his new endeavors.
Retiring from the insurance business won't be full retirement for Sartin. He plans to spend more time at his Sunnyside-based trucking company.
For the past 35 years, Sartin's office has been located on Yakima Valley Highway. He said the office has undergone three remodels, but he has always been ready to help his customers, who he will miss as he leaves the insurance industry.
For the past 2-1/2 years Ben has been learning the business from his father.
"My son wanted to get into the business," said Sartin. "I told him when he got through his training agent part of the program and got his independent contractor's license I would retire."
With Ben's growth in the company, Sartin decided Feb. 1 would be his last day in the office.
"He and I have been partners for 26 or 27 years at the trucking company," he said. "It's just been a wonderful ride working with him."
Besides taking time to focus on the trucking business, Sartin also plans on traveling and spending more time riding his cutting horses.
Stepping out of the well-visited office, Sartin said he will miss the clientele he has had the privilege of working with the past 37 years.
"Not too many people who have a job look forward to going to work. I have looked forward to everyday going back to the office," said Sartin.
The Wapato High School graduate said this will be the first time since he was 12-years-old that he won't have to be somewhere every day, something he is looking forward to.
.