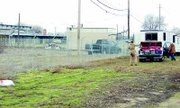 Earth should start moving soon at the site of Sunnyside's newest apartment complex. Vaughn Bay Construction Inc. was issued two building permits in December 2004 for work to be done at the intersection of Fifth Street and East Harrison Avenue.
Sunnyside Building Inspector Mike Storms said the two apartment complexes will be three stories and house approximately 15 units each.
The two apartment buildings, which are valued at $1 million each, will be fully sprinklered. Storms said the apartment buildings are planned with the first and second floors coming in at 5,700 square feet and the third floors at 5,000 square feet.
Storms said the company, which is constructing another apartment complex on the north side of town, has been working with the city on this project for a few months.
The apartment buildings are planned for an area off of Harrison Avenue, near Saint Joseph's Parish Center. Access to the apartment buildings will come off of Harrison at the end of Fifth Street.
Storms said ground is expected to be broken on the project some time this week. He added that there is a cement block building on the site now that will need to be demolished to make room for the new complex.
The permits issued to Vaughn Bay Construction Inc. are two of 46 permits the Sunnyside Building Division issued in December.
There were also two building permits issued for two other housing projects. Building, mechanical and plumbing permits were issued to Kathleen Green for a single-family house at 1616 Jersey St. The house is valued at $94,397. Another single-family construction project was also issued building, mechanical and plumbing permits in December. Del Dykstra was issued the permits for work on a house at 719 E. North Ave. The home is valued at $120,900.
Of the 46 permits issued in Sunnyside, 18 were building, nine were mechanical and nine were plumbing permits. There was one permit issued for the public works department for street excavation, and three permits were issued for water meters, water connection fees and sewer connection fees. The valuation of all of the projects sits at $2.3 million, and more than $22,804 in fees were collected through the permits. The staff of the Sunnyside Building Division conducted 335 inspections in December.