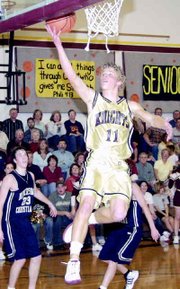 ELLENSBURG - Riley Sivak popped in 9 of his game high 17 points in the final period to rally the Ellensburg Bulldogs past the Sunnyside High School boys basketball team last Friday evening, 57-51.
The Grizzlies had fought back from a 32-23 halftime deficit by squaring the contest at 38-all heading into the fourth period.
"But the bottom fell out on us in the fourth quarter," said Sunnyside Coach Steve Urrutia.
He explained that his Grizzlies cut into Ellensburg's lead in the third quarter by mixing up their defensive presses and by "...scoring from our offensive sets."
Senior Reid Schilperoort paced the comeback attempt by Sunnyside. Schilperoort canned 11 of his team high 13 points after intermission. He got into foul trouble early on in the game, relegated to the bench for all of the first half except the first two and a half minutes.
The one other Grizzly who scored in double figures was senior Cody Heckert. He dropped in 10 points, which included knocking down two shots from 3-point land.
Sunnyside (2-7, 6-11) is scheduled to host Selah this Tuesday.
Sunnyside 14 9 15 13 -51
Ellensburg 18 14 6 19 -57
FG-Sunnyside 18/49. 3-pt. FG-Sunnyside 7/13 (Duran 2, Heckert 2, Cantu 2). FT-Sunnyside 14/17, Ellensburg 13/21. Rbd.-Sunnyside 24 (R. Schilperoort 8), Ellensburg 27. TO-Sunnyside 15, Ellensburg 11.
Sunnyside-Cantu 6, Simmons 9, Heckert 10, L. Schilperoort 0, Crimp 0, R. Schilperoort 13, Thomas 5, Montelongo 0, Duran 6, Engle 2.
Ellensburg-Affholter 3, Johnson 13, Griffith 14, Ritterseisen 1, Sivak 17, Quirk 6, Bender 2, Gordon 1.