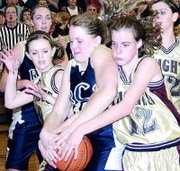 Limiting Riverside Christian's top two scorers on the season to just six points last Friday, the Sunnyside Christian girls basketball team nearly pulled off an upset. But in the end, the Crusaders eked out a 48-41 victory.
Wells and Van Beek each exploded for 23 points in the two teams' first go-around this season, which ended with Riverside Christian winning by a 63-39 score. Last Friday, thanks to some super defensive play by Tyssyna Van Wingerden and Carly DeGroot, Wells and Van Beek were non-factors in the game.
Unfortunately for the Lady Knights, two other Riverside Christian players stepped up. Mary Labbee and Kaitlin Edler dropped in a combined 30 points to spark the Crusaders' 7-point margin of victory.
Sunnyside Christian (6-3, 9-7) scored the first six points of the second half to forge a 24-20 lead on the Crusaders. Riverside Christian responded with six consecutive points of its own, then finished out the third period with a 10-6 run to grab control.
SCHS Coach Al Smeenk said his club had a couple of defensive lapses in the third quarter, "...some miscommunication that left some girls open."
The Lady Knights fought back to get within one point in the final three minutes of the contest, but Riverside Christian hit some key free throws down the stretch to keep the Sunnyside squad at bay.
Offensively for Sunnyside Christian, Van Wingerden and DeGroot led the Lady Knight charge with 13 and 10 points, respectively.
In JV action last Friday, the Lady Knights upped their season record to 11-0 via a 45-23 victory over Riverside Christian's junior varsity. Chelsea Jones and Andrea Schutt scored 14 and 12 points, respectively, for the winners.