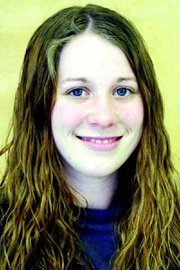 by Rachel Bott
Life is beautiful in countless ways, and every day presents new opportunities, happy experiences and surprises. For example, last week at a concert I was at, I was not expecting to be in the presence of who was soon to become my hero.
There are many musical groups that I dearly love, but now I know what it's like to have a true music hero. Opening for Stephen Malkmus & The Jicks at Nevmos in Seattle, Martha Wainwright defined the meaning of grace every second she controlled the stage.
The majority of my favorite musicians are male, so it's exciting to hear a female singer who really holds my interest in ways that so many others cannot. After witnessing the beauty and inspiring talent that is Martha Wainwright, there is no question who is now included in my Top 10 list (hint: if you know me, that's not an easy task for just any band to accomplish).
What I love about her music is simple. The lyrics aren't necessarily anything special or odd. The instruments and production of the album are very good, but it is not extreme. Performing live, she is obviously passionate and focused, but she is not wild or flashy or egotistical. The point is, the tone in which all of these aspects are implemented are quite determined and strong in their own way.
Martha Wainwright seems to possess the knowledge that she doesn't have to overdo it to be good and appreciated. She just loves what she does, and that is what make her music so wonderful.
On stage in casual shirt and jeans, tapping an old brown clog on the floor, she grins and sings soulfully, making it impossible to look away. She transforms herself into every song and connects with every person in the room.
Sister to Rufus Wainwright, who sings back-up on her album, it is evident that a desire for music runs in her family's veins. Yet she's able to create a rich, moody, countryish, melodic pop sound that is all her own.
If I described a detailed wish of what kind of musician I'd want to be, Martha Wainwright would be exactly that. For now, I'll stick to loving her CD and practice on my own guitar a little more. Who knows, maybe someday someone will hear me and call me their hero.
. Rachel Bott is a music enthusiast who is employed as a para-professional at Outlook Elementary School.