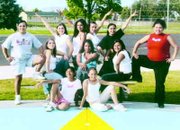 Saturday evening, dance teams from throughout the Lower Valley will be showcasing their moves and gyrating to the beat as part of the Summer Blast Dance Showcase.
The group hosting the dance showcase is the Sunnyside Hip Hop Elite Dance and Drill Team. Jensie Hernandez, the dance team's choreographer, explained that the different teams will come together at the ag building at the State Fair Park in Yakima to show off some of the new dance moves they have learned over the summer.
Hernandez noted that each dance team will be given a chance to perform during the showcase.
"It's a time for these girls to show what they've been working on during the summer," said Hernandez.
But members of the dance teams aren't the only people who will be performing tomorrow night. Nine different rap artists, including Sir Mix-A-Lot, will be on hand to finish off the night.
Other rap artists performing during the after-dance concert include Maharaji, Sapo Loco, Funky Aztec, TNT, Neikkia, Smiley G and Lil Ms V.
Hernandez said the reason the Sunnyside dance team decided to put together the dance showcase is to help them earn enough money to rent a building to practice in. She said for the past two weeks the 12-member dance team has been practicing outside for two hours a day preparing for the dance showcase.
Hernandez said the dance team, which was formed last year, is comprised of a very committed group of girls.
"I've had the girls for about two weeks and they're very dedicated," Hernandez said.
She added that the team is made up of girls who range in age from 10 to 19. According to Hernandez, nine of the 12 girls will be performing during the Summer Blast Dance Showcase.
Tickets for the event, which is taking place from 7 to 10 p.m. on Saturday, July 2, in the ag building at the State Fair Park, are $15 per person. Tickets can be purchased at the door, at any TicketsWest Outlet or at the State Fair Box Office.