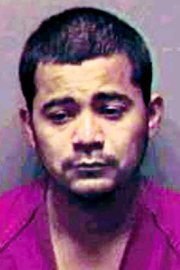 Calling the Sunday night stabbing death of a 73-year-old woman staying at Sunnyside Sun Valley Inn a homicide, Sunnyside police are seeking a 22-year-old man for questioning.
Wanted for questioning in the woman's death is Rene Ramos, a 5'5", 130 lb. Hispanic male with brown eyes and black hair. According to police, his last known address is Sun Valley Inn, 724 Yakima Valley Highway, #56, the same room as the deceased.
Police believe Ramos may be traveling with his 7-year-old daughter and his girlfriend, Abigail Alvarez, 19, of 610 Grandridge Apt. B2, Grandview.
The couple is believed to be traveling in Alvarez's vehicle, a white 1995 Pontiac GrandAm, with license plate numbers 647THI.
According to Police Chief Ed Radder, an autopsy is expected to be conducted today (Tuesday).
Radder asks that anyone with information regarding Ramos' whereabouts call the Sunnyside Police at 837-2120.