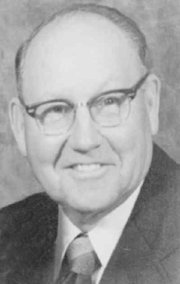 From a young lady who has been accepted to attend prestigious Stanford University this fall to a man best described as the go-to guy, from a pioneer of the sugar beet industry to a woman who was a community activist, this year's Spirit of Sunnyside Award winners truly reflect the best of what the community has to offer.
For the sixth consecutive year, city officials presented the Spirit of Sunnyside Awards during the community's annual Fourth of July celebration. This year's award winners are Jim Warren (adult), Hugh Hall (living pioneer), Ellen Bird (past pioneer) and Lizeth Chiprez (youth).
Mayor Ed Prilucik said the recipient of the Spirit of Sunnyside adult award, Warren, could just as easily be the winner of the pioneer award based on his long standing in the community. A Sunnyside High School alumnus who is well known in the community and a local business owner, Warren has taken on numeorus roles in Sunnyside.
"When something needs to be done in Sunnyside or a Sunnyside event needs some assistance, he is the go-to guy," Prilucik said of Warren.
Among the tasks Warren has undertaken are helping to construct the Centennial Square gazebo, working on the first three Sunnyside Habitat for Humanity homes, helping run the Independence Day soapbox derby races and helping construct Centennial Pathway.
Warren is also the chairman of both the Sunnyside Planning Commission and Sunnyside's Lighted Farm Implement Parade. Prilucik said as chairman of the winter parade, Warren has dramatically increased sponsorship and was instrumental in the parade being featured on the A&E television network.
"Jim is a community treasure," said Prilucik. "He continually demonstrates that one person can make a difference."
Although Hall died on June 7 of this year at the age of 91, he was named this year's Spirit of Sunnyside living pioneer award winner. Prilucik explained that Hall had been notified of the honor just prior to his death.
Hall and his family moved to the Yakima Valley in 1938. Always involved in agriculture, he was a pioneer of the sugar beet industry in Washington state. He managed farms in the summer and helped build the Toppenish sugar beet factory in the winter. Hall moved to Sunnyside from the Harrah area to raise sugar beets.
Hall operated a 40-acre farm on Fordyce Road near Sunnyside, from 1952 to 1978, before selling his farm and moving into town.
"A story is told that the tractor which came with the farm was the first tractor sold by Valley Hay and Implement, which is now RDO Equipment, and that the tractor was purchased new by Roscoe Sheller," said Prilucik.
Prilucik went on to say that Hall never lost his love of working horses, that even after his farm was fully mechanized he was known to hitch up the horses and rack the hay just for the fun of it.
In 1954, Hall became a Yakima County Farm Bureau board member, later chairing the group. He was also a board member of the Farm Home Administration. His other involvements included being a member of the Yakima County Dairy Herd Association, the Cattleman's Association and the Outlook Grange. At one time, he also supervised seven drainage districts, and helped design and build one of the first settling basins for Roza Irrigation District water. Prilucik pointed out that Hall was also a leader in both his church and the Outlook Boy Scouts.
Bird, in being named the past pioneer Spirit of Sunnyside Award winner, was lauded for the time she spent as a Sunnyside Parks and Recreation Commission member. She was appointed to the commission in 1998, and served on that city board up until her death on Feb. 1 of this year.
Priluck noted that after her husband's death in December 1994, Bird became very active in several senior citizen groups.
"She enjoyed helping people," he said.
Bird is credited with taking charge of the local bread giveaway program at local stores, "...and was sure to see that it was distributed to senior groups and food banks," said Prilucik. "She also enjoyed gleaning fruit in local orchards to give out to seniors."
Bird and her family moved to Sunnyside in 1956. She lived in the same house on Victory Way until November 1999, when she moved to Uptown Mobile Park. She was employed as a registered nurse, and volunteered her nursing skills at local senior care programs. While her two sons, Howard and Edward, were growing up in Sunnyside, Bird volunteered several years for the PTA, and supported her husband with his Boy Scouts troops.
The 2005 Spirit of Sunnyside youth award winner, Chiprez, graduated just last month from Sunnyside High School. A native of Los Angeles, she moved to Sunnyside as a fourth grader.
Prilucik said Chiprez's immigrant parents began working at an early age to support their family, hence, never had the opportunity to get an education.
"Being aware of her parents' struggles and experiencing the many hardships as a family has served as a motivation for Lizeth to do well in everything that she does," said Prilucik.
He noted Chiprez's many leadership positions while at Sunnyside High School, and credited her with attending several summer programs, such as the National Hispanic Youth Initiative in Health, Biomedical Research and Policy Development in Washington D.C., and a five-week Quest Scholars program at Stanford University.
Chiprez successfully applied for admission to 12 universities and has chosen to attend Stanford this fall. She has set a goal to practice medicine and later run for political office in Washington state.
Prilucik said Chiprez's advice to her underclassmen is to set high goals and always work hard in school. He said she believes in not letting adversarial circumstances affect her negatively, instead using them as a source of motivation to make her own life and those of others better.
Past Spirit of Sunnyside Award winners include:
2000-Bruce Ricks (adult) and Charlotte Hinderlider (youth);
2001-Bill Flower (adult), Paul Morrow (living pioneer), Roscoe Sheller (past pioneer) and Janae Anderson (youth);
2002-Ivan White (adult), Dorothy Amundson (living pioneer), Santiago Almeida (past pioneer) and Gerardo Ruelas (youth);
2003-Randy Schuler (adult), John McMinimee (living pioneer), Jerry Taylor (past pioneer) and Rebecca Slotemaker (youth);
2004-Dave Fonfara (adult), John Saras (living pioneer), Ruth Mottley (past pioneer) and Danny Mendoza (youth).