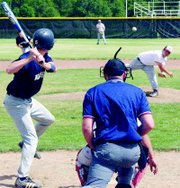 Going on one day's rest following a grueling Fourth of July holiday tournament, things didn't turn out too badly for the Sun Valley 16-18-year-old baseball team Tuesday afternoon.
Led by catcher Diego Burgueno, Sun Valley squeaked out an 8-7 victory over visiting Naches Valley in nine innings.
"We didn't have a lot of pitching left," said Sun Valley Coach Dave Martinez of the tired arms that sat in his bullpen.
Picking up the start for Sun Valley was B.J. Miller, who worked his way out of a couple of jams over four innings.
Miller got dinged for lone runs in the second, third and fourth innings. Despite giving up six hits, Miller didn't get into any real trouble until the third inning, when he walked three Naches Valley batters. Miller, though, picked up some help from his teammates, especially first baseman Lucas Ramos. With one out in the third inning and the bases loaded, Ramos fielded a ground ball in the infield. On the play, he threw the ball home to Burgueno for the force. Burgueno then tossed the ball back to Ramos to get the out at first and end the inning.
Martinez said it was key plays like that one with Ramos and Burgueno that he was happy to see take place.
"These guys have come a long ways," said Martinez.
Ramos had a big day at first base. In the fourth inning with runners at the corners, Miller and Ramos connected to catch a Naches Valley runner off the bag to end the inning.
Zach Marquez picked up the win in relief yesterday, tossing the fifth, sixth and seventh innings. Marquez gave up seven hits, but did have two strikeouts. Martinez said Marquez was able to get the job done for his team.
Trailing 7-4, Sun Valley rallied in the bottom of the seventh with four runs to push ahead for good. After back-to-back singles from Cole Boboth and Joel Zakahi, Ramos loaded the bases by getting aboard on an error. Burgueno then came up with a huge bases clearing double to tie the game. Burgueno scored what proved to be the winning run off a squeeze bunt by Nathan Cornelius later in the inning.
Burgueno wasn't done. In the top of the ninth with Boboth pitching in relief, Burgueno ended a threat when he was able to get ahold of a ball that went down into the dirt. Burgueno then gunned down a Naches Valley runner who was trying to make it to second base on the play to end the game.
Burgueno had a hot bat for Sun Valley yesterday, as he went 3-for-5 in the box.
Sun Valley (8-11-1) will play its first game of a tournament at Carlon Park in Selah this Thursday. Sun Valley has a 5 p.m. game against the younger of the two West Valley teams.
"That team is hot right now," said Martinez.
Sun Valley will then play the Yakima Scarlets on Friday at 12:30 p.m. before heading into two weekend tilts.
1 2 3 4 5 6 7 8 9 T H E
Naches 0 1 1 1 2 2 0 0 0 7 13 2
SV 1 1 0 0 2 0 4 0 X 8 10 2
Pitching: B.J. Miller six hits and four walks in four innings. Zach Marquez seven hits, two strikeouts, two walks, one hit batter in three innings. Cole Boboth two strikeouts, one walk in two innings.
Hitting: Gibby Briones 1-for-3. Cle Boboth 2-for-4 with an RBI double in the first inning. Nathan Cornelius 2-for-4. Diego Burgueno 3-for-5. Joel Zakahi 2-for-5.