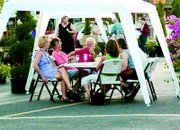 PROSSER - Wines and artwork will share the spotlight next weekend during the 2005 Prosser Gallery Walk and Wine Gala.
On Saturday, July 16, from 4 to 9 p.m. people from throughout the Valley will gather in downtown Prosser to take in different sculptures, paintings and quilts created by local artists. But artwork won't be the only thing on display. Seven wineries will also be on hand offering tastes of their different varieties.
Michele Wiley, one of the event coordinators, noted that the event is already bigger than last year, which marked the first time the Gallery Walk and Wine Gala was held.
"We have more wineries this year and we have more artists," she said, adding that more than 80 tickets have already been sold for this year's event.
The Gallery Walk and Wine Gala spotlights the different artists who live in the Prosser community, as well as the work of a featured artist. This year the featured artist is Jason Waskey, who lives in the Seattle area. Wiley said Waskey is a contemporary, realist artist who specializes in painting people in real life settings.
Other artists who will be on hand for the Gallery Walk include Cooper Carter, who will showcase his sculptures; Dale Brown, who will bring in some of his sculptures and paintings and Northwest Barrel Art, which will have wine barrel waterfalls on display. Wiley added that there will also be a quilt display downtown, as well as the work of Greg Vogtrettr, an Idaho photographer whose work centers around wineries and wine-related photography. Wiley said Hang-Ups art gallery will also be open during the event, and that she invited several artists from Allied Arts in the Tri-Cities to show their work.
In addition to the many various art displays people can also give their taste buds a treat during the event. Wiley said seven wineries will be offering tasting during the Gallery Walk and Wine Gala. The wineries that will be participating include Alexandria Nicole, Willow Crest, Thurston Wolfe, C.R. Sandidge, Snoqualmie, Columbia Crest and Vineheart. Wiley noted that Whitstran Brewing Company will also be on hand to offer samples.
Tickets for the Gallery Walk and Wine Gala are $10, which includes a commemorative wine glass and five scrip, which are used for wine tasting. Additional scrip can be purchased for $2 each. The event is open to adults over the age of 21.