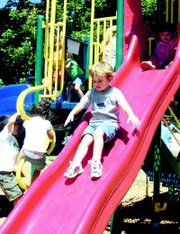 GRANDVIEW - Nearly 20 children milled around Grandview's newest piece of playground equipment Thursday afternoon, figthing hard to control the urge to run up the steps and slide down one of the three new slides that make up the large toy.
The children, from Grandview's Teddy Bear Daycare, were on hand to help break in the new equipment at Eastside Park, located off of Cedar Street. But before they could start climbing on the newest piece of playground equipment there was a ribbon that needed cutting.
Mayor Norm Childress, flanked by Grandview Junior Miss Co-Finalists Marlee Ziegler and Chelsey Jones, stood at the base of the new piece of equipment, cutting the ribbon just before each of the Teddy Bear Corner children rocketed themselves down the slides.
The newest piece of playground equipment comes just one year after a similar playground set-up was created in Dykstra Park. Grandview Parks and Recreation Director Mike Carpenter explained that Grandview's Playground Committee, made up of Liz Charvet, Elizabeth Jimenez, Vicki McLean, Gretchen Chronis and himself, was first established in 2003 and since then has been working to get new equipment into each of the city's major parks.
Carpenter said when the Grandview City Council approved the 2005 Parks and Recreation budget there was $5,000 set aside for new playground equipment at Eastside Park. Although that wasn't enough to get a new piece of equipment, an anonymous donor came forward and made it possible for the equipment to be purchased.
Carpenter said an anonymous donor gave $15,000 to the playground project. He added that of the $20,000 allotted for the project, to date $19,663 has been spent getting the new playground equipment purchased and set up in the park.
According to Carpenter, the Playground Committee worked hard to ensure that the project was done as cost effectively as possible. He noted that Huibregtse Louman Associates donated all of the survey work at the site, while Columbia River Steel donated their time excavating, assembling and installing the new piece of playground equipment. Carpenter added that the city's Parks crew did all of the work installing the border around the playground equipment and filling in the space under the equipment with a wood-chip like material.
Carpenter said the Rebekah Club also recently donated $50 toward the installation of a bench, which will be placed next to the new playground.
With the new equipment in place at Eastside Park, Carpenter announced that the Playground Committee is now turning its attention to putting in new playground equipment at Westside Park.