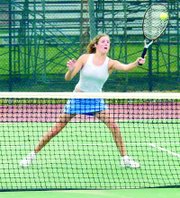 The 25th annual Sunnyside American Cancer Society tennis tournament can easily be deemed a huge success.
The tournament, which was held this past weekend, experienced a dramatic turnaround from the previous year. Last year's tournament had about only 40 players and raised some $1,000. But this year's tournament had nearly 100 players who raised more than $2,500 for the cancer fighting agency.
Organizers had been looking to raise $2,500 to celebrate the 25th anniversary of the tennis tournament.
Troy Whittle, who oversaw the tournament this year with the help of a few others, said while final dollar figures weren't available yet, the tournament did raise in excess of $3,000.
"We were really pleased with the turnout," said Whittle.
This year's tournament saw a huge junior player turnout, said Whittle, with between 25 and 30 youngsters taking part in the event. The tournament featured players from Vancouver, Wash. to Boise, Idaho, and all places in between.
This year's tournament also featured a best-ever 10 divisions of competition.
In the juniors 14 and under boys division championship, Matthew Friehauf defeated Matthew Johnson in straight sets, 6-1, 6-0.
Sierra Troxel won the girls 14 and under division, besting Zori Fossum 7-5, 0-6, 6-2 in the title match.
In 18 and under boys competition, Tyler Thompson of Sunnyside beat Nick Apanasov 6-7 (5-7), 6-2, 6-0 in the finals.
The junior co-ed doubles division, which featured players all under the age of 14, was played in a pro set format. The team of Erin Brassington and Ashley George had their hands full with 9-year-old Stephanie Buckingham and 11-year-old Sierra Troxel, winning 8-6 in the finals.
Steve Buckingham won the men's open singles championship, defeating Larry Troxel in the trophy round. The score of this match was unavailable.
Winner of the men's 3.5 singles division, which is made up of players who are strictly amateur, will be decided at a future date. Because of other commitments, Jonathan Buckingham and Dan Buckingham, both cousins, were to play their championship match at another date.
The women's singles title was one by Justine Hays of Yakima, who took fourth last year at the 1A high school ranks. She beat Tami Johnson in straight sets, 6-4, 6-0 in the championship match.
Erica Mendez and Jerika Martinez, who won the Regional doubles title for Sunnyside High School last year, won the women's doubles title. The local pair beat Karen Belze and Ord McConaghy, 7-6 (9-7), 6-0 in the finals.
The men's doubles division featured the most players, 30 in all, said Whittle.
In the title match, Eric Robbins and Jay Ball defeated last year's tournament doubles champions, Mark Villegas and Kahlid Benedicto, 6-1, 6-1.
The mixed doubles crown went to Alex Dahlin and Betsy Dunbar. The Zillah pair downed Yakima's Mark and Brittany Gjestrum, 6-2, 6-2 in the finals.