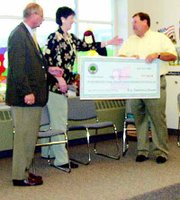 GRANDVIEW - A roomful of school children may have been the easiest audience Central Washington Congressman Doc Hastings had to face last week.
On a swing through the Yakima Valley this past Friday, Hastings stopped at Grandview's McClure Elementary School to deliver a $197,896 No Child Left Behind literacy grant to the Grandview School District.
The funds are a part of the federal government's Improving Literacy through School Libraries program, designed to give school districts funds to purchase books and additional computers and computer materials, Hastings said.
Speaking to the nearly 30 Grandview school children at McClure Elementary School library, Hastings encouraged the children to read a lot.
"Trust me when I tell you reading is very important," he said. "Try to read every night," he said.
"You are the ones who benefit," he added.
The six-term congressman from Pasco said the literacy grant will help nearly 1,650 Grandview elementary school age children by offering them the tools to improve their reading skills. The improved reading skills will also lead to students getting excited about a lifetime of learning through books, he added.
The Improving Literacy Through School Libraries grant will be divided between Grandview School District's three elementary school libraries. The funds will aid in increasing the number of books in the district's libraries, as well as its technological resources, explained Connie Davis, principal at Harriet Thompson Elementary School.
The literacy funds will also be used to enhance teacher professional development opportunities and expand hours of library services, said Donna Foxley of the U.S. Department of Education, who joined Hastings in making the grant presentation.
Foxley said the grant funds will make it possible for the Grandview schools to give children more access to their libraries both on-line and through printed materials.
She said part of the funds will be used to enhance the skills of the schools' media specialists.
Accepting the grant was Grandview School Board Chairman Tim Grow, who added his own words of encouragement to the students. "These funds will help buy books, which in turn will help you get good test scores," Grow added.
Grandview officials are hoping the influx of federal funds will help to increase the number of students meeting or exceeding reading standards by 10 percent, he added.