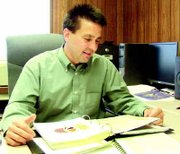 He has only been aboard a couple of weeks, but new City of Sunnyside Finance Director Scott James is quickly finding his place in the community.
James, 43, officially began as the new finance director on June 27, coming to Sunnyside from Edmonds.
James is a native of Alaska. His family traveled a lot since his father was in the construction trade. He graduated from Leavenworth's Cascade High School in 1980 and earned a Bachelor's degree in business administration from the University of Washington in 1994. James is a certified public accountant.
During his sophomore year in college, James' life took a different direction. He left college and took a job at Seafirst Bank. He worked his way through the company, eventually gaining a supervisory position, overseeing a staff of 27 people.
Some of James' work experience includes working in the accounting department at Nordstrom for three years. Always eyeing a position in city government, James was hired by recently departed Sunnyside Interim City Finance Director A.J. Housler for the City of Edmonds in 1998. Housler hired James for an accounting position.
It was Housler who put James on to the finance director position in Sunnyside.
"He said the position couldn't be more ideal," said James.
James interviewed with Sunnyside City Manager Bob Stockwell for more than two hours.
"We hit it off," said James. "It (the interview) really set the table."
James was chosen for the Sunnyside finance director position from a pool of 11 candidates.
James is right now commuting between Sunnyside and the west side of the state while his wife, Monica, and him search for a home in the area. The couple has two daughters, Vanessa, 10, and Veronica, 6.
The opportunity in Sunnyside is one that James has been looking forward to having.
"It is a great opportunity," said James.
James added that he has been impressed with the staff in Sunnyside so far.
James said he is looking forward to incorporating his different work experiences here in Sunnyside.
"There are a lot of opportunities to do things maybe a little different," said James.
One of the benefits, said James, to his position is that the city has a financial software system that he utilized in Edmonds. While in Edmonds, James also dealt with financial reports and assisted with the development of numerous budgets, including last year's $67 million budget for the town of 39,000-plus residents.
James said the former finance director in Edmonds established many of the guidelines that he likes to work by and will be using with his staff in Sunnyside. James said his former boss gave him the opportunity to really establish himself. James said he will be seeking the input of a lot of different staff members and other department heads in his job.
Some of the different things that attracted James to Sunnyside was the city's parks system. He was also impressed with the education system Sunnyside Christian schools can offer his children. James smiled as he admitted all of the sunshine the community has year-around is another benefit.
James also wants the community to know that his door is open.
"Communication is key," said James. "I think it is really crucial our citizens know how things are operating."
James already has a full slate of issues ahead of him, including examining possible sewer increases, and dealing with any funding issues surrounding improvements to the wastewater treatment plant. James said he would like to work on any economic development issues surrounding the Monson feedlot and has expressed a desire to become involved in such community organizations as the Sunnyside Chamber of Commerce. Not to mention, James is already beginning work on ironing out the 2006 operating budget for the city.
James said he is looking forward to a long and prosperous future in Sunnyside.
"This is a good career move," said James. "To me, this is just a thrill to be in this role."