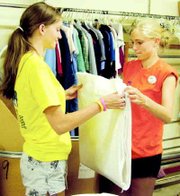 Several new faces have been popping up in the community this past week.
Those faces belong to teens who are taking part in the SERVE program. SERVE is part of the Youth Unlimited program, which has headquarters in Grand Rapids, Mich.
"They are (involved in) service projects that happen all over the United States," said Amy Trifan, one of the leaders of the youth groups working in Sunnyside this week.
The program is open to teens between the ages of 13 and 18. The teens involved with the program actually pay to be involved. The teens pay $265, which is used to help cover expenses with their trip.
Trifan said the 26 visitors to Sunnyside this week hail from Iowa, Michigan, California and Wisconsin. The teens are involved in community service projects while given an opportunity to learn more and strengthen their relationship with God.
The teens arrived in Sunnyside last Saturday, July 9, and will be leaving for their homes this weekend. They have been involved with a variety of projects in the community. Some of the teens have been working at the Sunnyside Housing Authority. Others have been doing projects for the city, Lower Valley Hospice and at the Christian School Thrift Store. The teens have been housed at Sunnyside Christian Elementary School.
Trifan said the program serves many different purposes.
"It gives kids an opportunity to serve other people without (receiving) anything in return," said Trifan.
Trifan said SERVE also gives teens ample opportunities to strengthen their relationship with God.
But, work and personal fulfillment haven't been the only thing the teens have been involved with during the past week. The group has been finding some time to relax. Trifan said just the other day the teens had a chance to learn line dancing and have done some white water rafting in the White Salmon River.
Corrie Janssens, 15, of Grand Rapids is involved with her first SERVE project. Janssens said some of her friends from her church were involved with the program, so she decided to give it a try.
Janssens says she enjoys teaching others about God, as the teens have had a chance to be involved with a vacation Bible school in Sunnyside.
The work part of the program is also something new for Janssens.
"I have never had any kind of job before," smiled the youngster. "It is good to get this experience."
Janssens, though, said her favorite part of the trip so far has been meeting a lot of new people.
Amanda Eode, 17, of Grand Rapids is on her second SERVE mission. Last year, Eode went to Ontario, Canada, where some of her projects included weeding a gigantic hill and working with inner-city youth.
"I had a really good time last year," she said. "I learned a lot about myself."
Eode said the SERVE missions teach teens a lot about themselves. Eode said she has gained personal growth from learning to deal with the situations she encounters.
"You really find out who you are," she said.
Eode said she has had a good time so far in Sunnyside, but is hoping to better her relationship with God.
"I would like to make my faith a lot stronger," said Eode.
Tyler Snow, 14, of California is also on his second SERVE mission. Last year, Snow went to Mississippi, where he worked on a variety of community improvement projects.
"I thought it would be interesting and pretty fun," said Snow as to why he decided to participate in another SERVE project this year.
Snow said having fun is a small part of being involved with the SERVE project. He said it is rewarding for him to be involved with the program because he knows he is helping people.