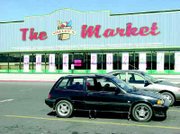 Fiesta Foods, a grocery store based in Pasco, will be replacing the vacancy in the Mid-Valley Mall left with the departure of The Valley's Market.
Rob Martin, president of REM Market LLC, which owns Valley's Market, said the reason for closing his Sunnyside store is pure economics.
"We just couldn't ever get it to the volumes we needed (to make the store successful)," said Martinez. "We felt like we tried."
Martin is hoping to have the store closed by early to mid next week. The closure brings to end a three-run run by Valley's Market owners in Sunnyside. Martin opened the Valley's Market in Sunnyside in July 2002, replacing long-time fixture Food Depot.
The Sunnyside store was one of four stores Martin owned, with other locations in Pasco, Quincy and Cashmere.
Valley's Market employed 25 people. Martin said he is thankful to the local Food Pavilion store in Sunnyside for hiring about a dozen of those employees.
"Food Pavilion has been great to work with," said Martin. "I had just an awesome group of employees to work with. I hope I have given some people chances to better their lives."
Valley's Market offered a variety of attractions to try to bring in customers, ranging from trying to breach the Hispanic market to offering Chinese and Dutch delicacies.
The Hispanic market was what attracted Martin to Sunnyside as he tried to expand his company. He said despite trying, that customer base needed to keep a store such as his open never developed.
Martin said he had been looking at closing the Sunnyside store since the beginning of the year. He officially gave notice to mall management and employees last month about closing the store.
Despite the departure of Valley's Market, the news isn't entirely bad for local residents. Fiesta Foods out of Pasco will be opening its doors at the same location early next year. Craig Gaylord, president of Fiesta Foods, said he has a target date of March 1, 2006 for opening the new store.
"We are basically going to redo the entire building," said Gaylord. "We are taking it down to the bare walls."
Gaylord is already putting his plans together for the remodeling of the store. He said the store will look very similar to his Pasco store on 10th and Lewis.
"It is very festive, bright colors," said Gaylord. "You kind of go in and say, wow this is neat. It has a different feel."
Gaylord's Sunnyside store will offer several different attractions, including a bakery with Mexican foods made from scratch. There will also be a deli on site that makes all of its foods from scratch.
While there are several attractions in the Pasco store geared for the Mexican culture, Gaylord said his store is quite popular with Anglo residents, which he is hoping to duplicate in Sunnyside.
"We think that we have a concept that is attractive to people," said Gaylord. "We are continuing to evolve all the time."
The Pasco Fiesta Foods has been open for two-and-half years.
"Even before Pasco opened we had done research throughout the Yakima Valley,' said Gaylord on his plans to expand his company. "We had already been looking at Sunnyside."
Greg Meshke, manager of the Mid-Valley Mall in Sunnyside, is excited to have Fiesta Foods aboard. Meshke added, though, he is sad to see Valley's Market leave the area.
Meshke said after hearing about Gaylord's plans to expand his company to Yakima, he contacted him to see about coming to Sunnyside.
"He is well aware of the Sunnyside market," said Meshke.
Meshke said he is excited to see the shape that the new store will take over the next few months. He encourages anyone who wants to see what the Sunnyside store will look like to visit Fiesta Foods in Pasco.
"They are just going to be great (here)," said Meshke of Fiesta Foods.
Gaylord plans to employee about 130 people at the Sunnyside store. At his Pasco market, Gaylord has about 120 employees.
Gaylord said he is excited about coming to Sunnyside and being involved in the community like his company is in Pasco.
"We have things you can't find anywhere else," said Gaylord of his store.
Martin said one of the reasons he had to close his store is because of the likes of large corporations such as Wal-Mart.
"They (Wal-Mart) are really part of the reason why we couldn't stay open," said Martin.
Martin had some words of caution for local residents.
"They (customers) really need to support the local independent store," said Martin.
Martin said if people want options for shopping in the community, then the small stores need to receive support. He said small, independent chains can't stay open if people only shop at the larger retail markets.