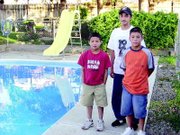 A family celebration nearly turned to disaster, had it not been for the quick reaction of three young Sunnyside boys.
This past Monday, the Sunnyside City Council honored the young heroes for saving the life of a 3-year-old Pasco boy, who nearly drowned on June 12 in a back yard swimming pool.
The boys were recognized as heroes by the City Council and presented with certificates for their quick response to the incident.
Brothers Homer and Steve Romero of Sunnyside and their friend, Anthony Aguilar, were in the right place at the right time to rescue the baby, who wandered too close to the edge of her Dayton Avenue home swimming pool, according to Bengie Aguilar, Anthony's mother.
She said Homer, the youngest of the three boys, was first to discover the baby had fallen into the shallow end of the pool. The 10-year-old jumped into the water and pulled the child from the pool, Aguilar recalled.
She said Homer's 11-year-old brother Steve then called for Aguilar's son, Anthony, 13, who in turn grabbed the nearly blue baby and sought more help.
Sunnyside volunteer fireman Aaron Hunsaker, who was a guest at the family gathering, began administering CPR, saving the child's life, Aguilar said.
"I'm so proud of the boys for saying calm and knowing what to do in the emergency," Aguilar said.