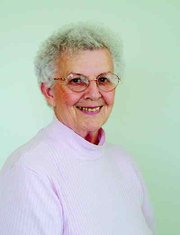 It was a call for help that first alerted Sunnyside resident Marvine Schultz to the open position on the Sunnyside Recreation and Community Center Commission.
Schultz said she was at the Sunnyside Senior Citizen Center one afternoon when it was announced that volunteers were needed to take part in several commissions. Schultz said at first she didn't know which of the boards she would end up on, but decided to fill out an application. She added that several people encouraged her to volunteer.
"I filled it out never believing I'd be selected," Schultz said. "And I was glad I did when I found out what it pertained to."
It wasn't until Schultz had a conversation with Mayor Ed Prilucik that she learn one of the boards in need of a new member was the Sunnyside Recreation and Community Center Commission.
"We talked about young people and what parks and recreation is doing for them," Schultz said of her conversation with Prilucik. "That's something that is near and dear to my heart."
Schultz said she believes the programs administered by the Sunnyside Recreation Department are important to the community. She said all of the activities the department offers helps give children something to do and keeps them off the streets.
Another reason working on the Sunnyside Recreation Commission is important to Schultz is that her grandson was one of the original supporters of the skate park project at SunnyView Park. So for Schultz, working to help create more opportunities for area youth is nothing new.
Schultz said she is ready to work with anything that pertains to young people and is looking forward to serving on the board.
Schultz is a six-year resident of Sunnyside, having moved to the community from Mabton. Schultz and her husband of 53 years, Elmer, are retired farmers.
Schultz said she has yet to attend her first meeting of the board, but is looking forward to working with the other board members. The next meeting of the Sunnyside Recreation and Community Center Commission is set to take place on Wednesday, Aug. 17.