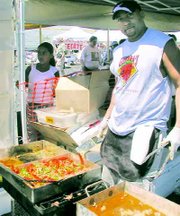 The windswept slopes of the Rattlesnake Hills north of Sunnyside will provide the venue for the 11th annual Pacific Northwest Chile Pepper Festival, set for Aug. 6 and 7.
The two-day event will be held at Lino and Hilda Guerra's property, six miles north of Sunnyside, at 6000 State Route 241, from noon to 7 p.m. both days.
"We have a lot of exciting activities planned for this year's event," said Mrs. Guerra.
The festival, which showcases the many varieties of chile peppers raised by the long-time Sunnyside family, will also include a plethora of local entertainment and games. Among the games will be the always popular "bobbing for chile peppers" and pepper decorating contests, along with pepper bag races. New this year will be balloon car races, in addition to plant a tree races.
Scheduled to perform at the popular festival are singers Marlee Ziegler and Kristy Lee Jaramillo, both of Sunnyside, as well as the popular Yakima Valley folkloric dance troupe, Bailadores De Sol.
Guerra said the dancers will perform from 4 to 6 p.m. on Saturday, Aug. 6. The singers will perform at various times Sunday.
Guerra said she is also planning to have Sun King cheerleaders Rosie Moran and Renee Vargas, both of Sunnyside, on hand for the weekend event.
Last year, Guerra estimated that more than 1,000 people attended the event, which continues to grow in popularity.
"Last year we made up 150 goodie bags for the children who attend the event with their parents. We ran out of bags early on Saturday. I had to made more bags for Sunday," she said.
This year Guerra plans to start out with 250 bags.
"If we see 200 children at the event, we know we are getting a lot of adults," she said.
Guerra said people come from all over the Northwest to attend the chile culinary experience, which features the star of the festival, Guerra's famous grilled stuffed peppers and fajitas. Guerra promises that the fajitas are not "too" hot, just spicy.
In addition to the cheese-filled peppers and fajitas, the menu will include sausages, corn on the cob and non-alcohol beverages, all available as part of the admission price.
Tickets are now on sale at the cost of $12 per person, in advance. Tickets will be $15 on the day of the event, and children's tickets are $7 each.
The Pacific Northwest Chile Festival tickets are available at the Sunnyside Chamber of Commerce office, or by visiting the festival web site at www.guerra.com.