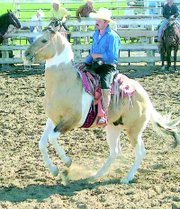 A cowardly act, one that would turn the stomachs of most people, has robbed a Sunnyside area family of a valued pet.
A spectacular looking, golden brown show horse was shot to death late Wednesday evening as it stood tied next to the home of the Jesus Valencia family. Family members and neighbors who discovered the downed animal just after 8 p.m. this past Wednesday watched in horror as the horse chokingly gasped for its last breaths of air before succumbing.
Brian Bosma, a neighbor of the Valencia family who spoke on their behalf yesterday afternoon, said the family is devastated by what occurred. There is no rhyme or reason, he said, to explain why someone would shoot and kill a defenseless animal.
Named Grain of Gold, the six-year-old half quarterhorse and half paint had won numerous awards in the show ring. He was a dancing horse, trained in the Latino art of Charro dancing.
Bosma said both Mr. Valencia, his father and Valencia's son had spent considerable time working with Grain of Gold to transform the horse into a top grade Charro performer. Monetarily speaking, the family pet was worth thousands of dollars.
"They were offered $10,000 at one point because of the horse's dancing abilities," said Bosma. "They turned it down."
Bosma said the Valencias contacted the Yakima County Sheriff's Department to report the crime. One of the deputies, he said, informed the family that chances of apprehending the killer were slim. The deputy, said Bosma, suggested that offering a reward might be one way to bring the criminal to justice.
Towards that end, Bosma said the Valencia family is offering a $500 reward for any information that leads to the conviction of the person who killed their horse. It is believed that the shooting occurred just minutes before 8 p.m. this past Wednesday at the Valencia home, which is located north of Sunnyside close to where East Zillah Drive dead-ends. Bosma said it appears the animal was shot with a small caliber pistol or rifle.