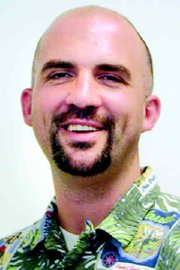 Housing is nothing new for the newest member of the Sunnyside Housing Authority board.
For Sunnyside-native Michael Kantman, housing is a subject in which he is fairly well versed.
Kantman spent some time several years ago serving on the Lower Yakima Valley Rural Enterprise Community's housing committee.
Kantman said during his time on the committee he and others, including Sunnyside Housing Authority Executive Director Ketha Kimbrough, worked to put together a housing action plan for the Rural Enterprise Community. In putting together the housing action plan, Kantman said the committee looked at housing issues in both Sunnyside and Grandview.
Although Kantman is well versed on the subject of housing, he said there are still some issues coming before the Sunnyside Housing Authority Board that will require him to do a little studying.
"We have some issues right now that will need some research," said Kantman, who attended his first meeting of the Sunnyside Housing Authority Board this past Wednesday evening.
Kantman said one of the issues he will have to review has to do with the market study the Housing Authority is currently undergoing. He said during his first meeting he also learned that the Housing Authority is in the middle of going through an audit.
Kantman said he thinks housing is a big issue in Sunnyside and one he is looking forward to working on.
Kantman came to serve on the board after being approached by Sunnyside Mayor Ed Prilucik, who asked him if he would be interested in serving.
"It seemed like a good committee to serve on," Kantman said.
Kantman, who is married with two sons, said he is looking forward to working with the other committee members, noting that everyone greeted him warmly during his first meeting.