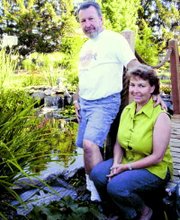 GRANDVIEW - Relaxing at home takes on an all new meaning after making a visit to the home of Aaron and Vona Galey of Grandview.
The couple has a 20-by-20 foot pond in their back yard, which is filled with 29 koi. The koi come in a rainbow of colors, ranging from nearly pure white to pale yellow and bright orange. The colorful fish also come in a variety of sizes. Aaron noted that as the fish get older they grow in size, with his largest koi measuring in at nearly two-feet long.
But the couple didn't have a koi pond when they first moved into their home. Aaron said he started out small with his pond project. He noted that his first pond just hugged the corner of his deck.
"I convinced (Vona) that if I started out small and it worked she would allow me to expand," Aaron said.
That was 15 years ago, and since that time Aaron's pond has definitely expanded. The pond his koi currently inhabit is up to six-feet deep in places, which gives the fish places to hide.
Aaron said for him ponds were something he was always interested in. He explained that when he was growing up his family would regularly visit a family friend who had a pond in his back yard. Aaron said growing up he always had an aquarium and enjoyed fish.
Now, Aaron can find himself spending upwards of three to four hours searching through koi in order to find just the right addition for his pond.
And it's important to pick just the right fish because, Aaron said, koi can live up to 90 years.
Aaron said koi, which are a member of the carp family, are prized for their color. He said the more distinct and vibrant the color, the more valuable the fish are.
According to Aaron, people can pay anywhere from $25 to $65 for a four-inch koi from Japan. The only gamble with purchasing such a small koi is that as the fish gets older, the colors can shift, move and change. He explained that this is why the larger, older fish can get to be quite expensive, because their colors have already been determined.
Aaron said he and Vona dedicate two to three weekends a year to hunting out new koi for their pond. Aaron, who gets his fish from a distributor in Lynwood, said during those special outings he can spend eight-hours a day just looking at koi.
Looking through the waters of his pond, Aaron added that although his koi may be pretty to look at, they are also very friendly fish.
Aaron said when he gets in the pond with them they rub up against him and allow him to rub their bellies.
"They are a social fish," he said.
He added that koi swim together and when a new fish is introduced they will greet it.
Overall, Aaron said his koi pond is still just a hobby, adding that it is very calming.
"You don't need to go to Hawaii (to relax)," Aaron said.
Instead, he and his wife enjoy spending their evenings watching their colorful koi swim just under the surface of their back yard pond.