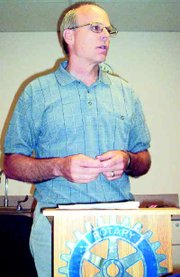 When it comes to water supply there is more at play than how much snow falls in the mountains.
Wednesday morning, Don Schramm of the Sunnyside Valley Irrigation District spoke to members of the Sunnyside Daybreak Rotary Club about the inner workings of water in the Valley.
Schramm said water is currently at 41 percent of average. But he said the challenge falls in that there are 3.5 million acre feet of water that typically runs out of the mountains and there is a need of 2.5 million acre feet to keep things green in the Yakima Valley. The only problem is that the storage capacity for that run-off sits at only 1 million acre feet of water.
Schramm said this means that in order to be able to offer the other 1.5 million acre feet to water users, SVID has to rely on snowpack. He said typically snowpack in the mountains would just be getting to the point where run-off was no longer available and storage would have to be utilized.
But this year, things have been a little different. He said this year snowpack was gone nearly two months ago.
"We're just living on storage," Schramm said. "Storage really is important."
One way SVID is working to increase storage in its own system is through the Sunnyside Canal Improvement Project.
Schramm said SVID is working to increase conservation throughout the system and create storage.
He said SVID is currently working to upgrade its canal system, and one way that is being done is through the improvement of check structures up and down the length of the canal system.
Schramm said there are check structures that will be switched over, and made into automatic gates. This will make it easier to control the amount of water flowing through the canal.
He said SVID is also working to construct three new storage structures. The first storage structure, located outside of Prosser, was just recently completed.
Finally, Schramm said a status system will be put into place, which will make it possible to check and adjust the status of the flow in the canal from one key point.
Overall, Schramm said the project will cost in the area of $32 million.