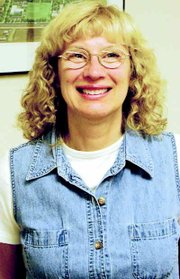 The Port of Sunnyside's newest employee hadn't meant to go to work so soon. A new Bickleton resident, Carol Carter had planned to begin looking for a job in September.
She wanted to wait until she and husband, Jim, had moved into their new Bickleton home and their daughter and granddaughter had returned to New York following an August-long visit.
But a Port of Sunnyside advertisement seeking an experienced person to fill its financial officer position caught Carter's eye.
"I had wanted to enjoy the month of August visiting with my daughter, Jessi, and my 6-year-old granddaughter, Chloe, before starting my job search," Carter explained.
Carter said the Port's immediate need for a financial officer seemed like a perfect fit for her qualifications. "So, I decided to send in my resume," she said. "Besides, who knows what the job market might look like in September," she added.
Carter, who brings nearly 30 years of experience in the public accounting field, began work this past Monday at the Port's South Seventh Street business office.
"We're excited to have Carol on board," said Amber Hansen, Port manager. Carter replaces Marilyn Wilson as the Port's finance officer and treasurer.
"Carol is currently working with interim finance advisor Bud Schatz until she is settled in," Hansen added.
Carter worked for public hospital districts in the Puget Sound area for nearly 21 years as a controller and accountant.
"I'm familiar with handling and accounting for taxpayers' money and understand the public audit aspect of the Port's budget," Carter said.
"I'm looking forward to becoming acquainted with the Port's operation," Carter said. Besides, she said, she was ready to get back into the work field.
Before taking an early retirement five years ago, Carter was the controller for Cascade Valley Hospital in Arlington. For 16 years, she managed and helped prepare a $50 million annual budget for the 48-bed hospital, surgery center and its nine medical clinics. Prior to that she also worked as an accountant for Whidbey General Hospital in Coupeville.
For a short period of time, she operated her own bookkeeping business while her children were small. "I got my start in business as a teller at the Mabton branch of the old Pacific National Bank of Washington," she added.
Although Carter is a native of Bickleton, she and her husband have lived in Western Washington for most of the past 30 years.
They spent the past five years crisscrossing the United States and parts of Canada, following his retirement from the state Department of Transportation.
"We just sold everything and purchased a fifth-wheel RV in order to see the sights," she explained.
"We didn't want to wait until we were too old to travel to see everything we wanted," she said.
Recently, the couple decided it was time to again settle down. Returning home to Bickleton was a natural choice for the couple, who were both raised in the Klickitat County farming community.
"I'm excited to again be close to family and friends," Carter added, saying her parents, Hazel and Dick Roberts, still live in Bickleton.