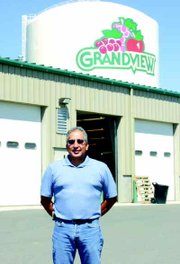 GRANDVIEW - It might be the fact that he was born on Christmas Eve, but whatever the reason, one can say that Grandview Public Works Director Cus Arteaga has had a truly blessed life.
Arteaga, 50, is one of the City of Grandview's longest standing employees, having been with the city since April 1973.
Arteaga made his way to the Valley from Arizona, where he was born. His family then made the trek to Walla Walla when he was 3 years old. But it would not be until Arteaga reached the first grade that his family would move to the place he would call home for the next four-plus decades.
Arteaga and his wife, Candy, have been married for 33 years and have four children-Andrea, Victoria, Jessica and Jeffrey. For those who might be wondering the secret to a successful marriage, Arteaga smiles and says he doesn't know. Things just seem to work out.
The first job Arteaga had with the city was to clean the bathtub-like ring that developed around the public pool. Arteaga said the ring had to be cleaned so the pool could be painted.
Arteaga was hired for the city job his senior year of high school. By the beginning of his senior year, Arteaga had already completed his necessary credits to graduate. He was able to take advantage of a work-release program at the high school during his last trimester of school.
The saying about being in the right place at the right time held true for Arteaga.
One day, Arteaga had to flag down then Public Works Superintendent Clarence Ragsdale because his family was having a problem with the irrigation system. The conversation between the two evolved into Arteaga telling Ragsdale he was looking for a job. Ragsdale told him to show up that next Monday and he would put him to work.
"It was being at the right place at the right time," smiled Arteaga. "It was supposed to be a 30-day job (but) here I am."
The first day Arteaga ever asked off from work came in June and that was only because he wanted to go to his graduation.
Arteaga moved from the pool to taking care of the cemetery. Then after one month at the cemetery, he moved into the water department to read water meters. Arteaga then ventured into the streets department and was eventually promoted to assistant public works director, in 1988. In 1990, Arteaga became Grandview's public works director.
While some might wonder what has kept Arteaga at one job for so long, he doesn't have to think too hard to find the answer.
"Grandview is home," said Arteaga. "I don't see going somewhere else and being as happy as I am here."
Arteaga enjoys his job to this day. Arteaga jokes how he has probably interacted with all of Grandview's 8,700 residents during his time as a city employee.
"The job has been real challenging," he said. "It has been real rewarding. It has allowed me to be part of the community."
Arteaga has a full slate as public works director. He has 20 full-time employees and oversees the code enforcement division. He also supervises all water and sewer issues in the city, along with street improvements.
One of Arteaga's crowning achievements is the construction of a new public works facility at North Willoughby Road. In 1993, Arteaga began saving money in his city budget to build a new public works building, moving all services from the downtown area to its new location. Arteaga laid out all the plans and calculated it would take $1.2 million. He finally saved enough money and his new shop was completed in 2001 for only $900,000.
Arteaga said he is proud of so much more. He said the reservoir that has the Grandview city logo painted on it right next to his shop and is visible from the freeway is one of his proudest accomplishments. He is also proud of the new state of the art wastewater treatment facility and the various street improvement projects that have been completed in Grandview, including the beautiful Wine Country Road improvement.
"I think there are a lot of things I can reflect on," he said.
Arteaga said one of his guiding philosophies in his job is something former Grandview mayor and current Yakima County Commissioner Jesse Palacios told him a few years ago.
"(He said) make sure I left it better than when I got it," he recounted.
When he is not at work, Arteaga enjoys spending time outdoors camping, fishing and with his horses. He also has a cherry orchard that he spends time in.
"Piddling around in my orchard is like stress management for me," said Arteaga.
Arteaga said what has made the City of Grandview so successful in all of its projects and different ventures is that everyone involved works together.
"Everyone is trying to accomplish the same goal," said Arteaga. "It is not me, me, me. It is us, us, us."