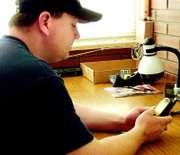 Cell phones can serve many different purposes. They can be used to call for help when one is stranded or to even access the Internet. But the Sunnyside Fire Department is promoting a new use for cell phones, one that could very well save a person's life.
ICE, which stands for In Case of Emergency, is a new program the fire department is promoting that utilizes cell phones. Sunnyside fireman Josh Roe explained that a cell phone user can develop a folder entitled ICE under the contact list directory. As part of the ICE folder, a person would put in all of their emergency contacts.
"It should be somebody we can call for information," said Roe.
Roe said right now, no particular cell phone company is endorsing the ICE program. But the fire department more than supports the program because it will help not only make their jobs easier, but it could also save a life.
Roe said paramedics or firefighters at a scene could look at a person's cell phone if they were unable to speak and see if they have the ICE entry in their contact folder.
"There could be a myriad of things that is wrong with you," said Roe.
Roe explained that then the appropriate people could be contacted to gain needed information when minutes count in some cases.
"If we see ICE that tells us it is the emergency numbers," said Roe.
Roe encouraged people to not overlook how important it is to contact the individuals a person puts in their ICE folder. This way, a phone call from an emergency provider would not come as a surprise. Roe said people might want to think of putting a relative's phone number in the file in case emergency forms have to be signed.
Roe recommends everyone utilize the ICE program the fire department is promoting. He said the information could come in handy in case of an unexpected emergency. Roe especially recommends people with heart problems, diabetes, respiratory issues and elderly residents utilize the ICE program with their cell phones. Roe also recommends parents put the contact numbers into their children's cell phones, as well as those people who don't speak English well.
Roe said if people utilize the ICE program it will make an emergency care provider's job much easier.
"If we have a clue as to what sort of medical condition you have, that can change what kind of treatment (we provide)," said Roe. "It will seriously speed up the care you will receive."