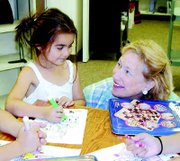 GRANGER - For Granger Librarian Nan Ide, her first day on the job was an exciting one. She walked in to find her library on a cold December day to find the space filled with about 56 children and nearly a dozen adults.
The crowd was in the library celebrating "The Polar Express," a book that had recently been turned into a movie. Ide said the library staff was serving cookies and hot cocoa, and those in attendance were playing games and reading excerpts from the book out loud.
"It was wonderful," Ide said.
Although the crowds have subsided a bit since that first day, Ide said she still enjoys working in a library that is often filled with children and adults alike.
In fact, Ide said it's the children who visit the library who are helping her improve her Spanish skills. She said when she first came to the library she could speak some Spanish, but every day she is improving thanks to the little ones who fill her library every day.
Working with children and the public on a day-to-day basis is something new for Ide.
Before coming to work at the Granger library, Ide spent 27 years working as the media librarian for Educational Service District 105. She said it wasn't until ESD 105 decided to dissolve the library that she found herself in need of another job and Granger seemed like a nice community to be a part of.
Ide, who lives in Zillah with her husband, Jim, said she has enjoyed being able to work with children, as well as adults.
She added that when she first started work at the library there were a few things she had to get used to, thanks to fact that she was working with so many more children.
Ide said when she first arrived she wondered why she kept finding sunflower seeds on the ground and on top of books. She soon discovered that children were coming into the building with cheeks full of the seeds and spitting them out where ever they saw fit.
"It's just been getting used to the kind of things children do," Ide said.
She said she has also been surprised by the number of people who use the library, but not for books. Ide said there are a lot of people who use the library for computer access, as well as access to the library's collection of movies and music CDs.
"That was a big surprise," Ide said.