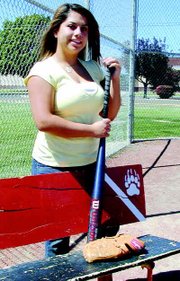 With summer about midway over, young Sherran Garcia is starting to get nervous. And not just because she will start school as a junior at Sunnyside High School in late August.
The petite Garcia is one of six Sunnyside girls seeking the title of 2005-06 Miss Sunnyside. She will be competing for the crown and scholarships during the Miss Sunnyside Pageant, to be held Saturday, Sept. 17, at the Sunnyside High School auditorium. The pageant is a part of the annual Sunnyside Sunshine Days celebration set for Sept. 16, 17 and 18.
Although still working to learn the pageant's opening routine, the vivacious 16-year-old is managing to steady her nerves by keeping busy participating in some of her other favorite activities. Toward that goal, she keeps active by participating in church choir at the Neighborhood Assembly of God Church. She also takes time to play an occasional game of softball, go swimming or just hang out with her friends.
But her activities as a Miss Sunnyside candidate doesn't leave her much time to hang out or stay nervous for long.
Garcia and her fellow candidates have been meeting weekly since late May in preparation for the September pageant. Each week the candidates go over routines, practice answering impromptu questions and a myriad of other details leading up to the big night.
The candidates take turns quizzing each other, offering helpful advice and collecting notes from Miss Sunnyside Pageant Director Jennifer Golden as they prepare for what many believe is one of the best community pageants in the Lower Valley.
It takes a lot of work to be a candidates, admits Garcia. She said her favorite part of the summer pageant activities has been the opportunities to get to know the other candidates better, and to all go shopping together.
"Shopping for outfits for the local parades was a lot of fun," Garcia said. She is excited to be going to area pageants to see how other community pageants are held and to ride in area parades. Garcia and the other Miss Sunnyside candidates will be riding in the Grandview Community Parade Thursday, Aug. 11, as one of their forays into the limelight.
Pre-pageant preparations also included learning to walk gracefully in heels while wearing evening gowns.
Garcia said preparing for the pageant is just a part of the work which goes into being Miss Sunnyside. Garcia said one of the big challenges is selecting a community service project, which if selected as Miss Sunnyside she will support during her year wearing the crown.
"I intend to promote the American Red Cross and to help the agency by holding fund-raisers, as well as blood drives," Garcia said.
She said she chose to the American Red Cross as her community project because of her grandmother.
"My grandmother has required a number of blood transfusions and because of her I've learned how important the community blood drives are," Garcia said.
The middle child in a family of three youngsters, Garcia said she hopes to one day attend the University of Washington and major in social work.
While she hopes to one day work with abused children, she feels the biggest issue facing her peers is the social pressure exerted by fellow teens.
"There is a lot of pressure to do bad things, like drugs, alcohol and being in gangs," she said.
"I think somehow we have to find ways to make peer pressure work for us, not against us," she said.
Garcia, the daughter of Sheri Daniels of Sunnyside and James Garcia of Grandview, is being sponsored by National Gas Company and Johnny's Services.