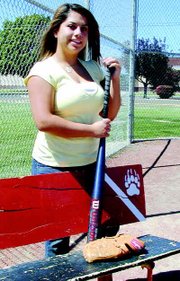 Viewing a movie on the lawns surrounding Sunnyside Centennial Square, admiring automotive pride at a car show and browsing the work of Lower Valley craftsmen are all among the activities being planned for the 2005 Sunnyside Sunshine Days celebration.
Sunnyside Sunshine Days will be held Sept. 16-18, according to the leaders of an effort to revitalize the long-time community celebration.
"Oh yes, we're definitely going to have a return of Sunshine Days this September," said Dorothy Leonard of the reorganized Sunshine Days committee. The committee, which has been meeting over the past several months, has agreed to host all of the usual events, but also wants to give a different face to the end of summer event.
"Our plan is to include most all of the community's usual favorite activities, such as Saturday's grand parade, the carnival and downtown street vendors," she added.
But, Leonard promised there will be a new look to the street fair and many of the other activities now being organized for this year's three-day community event.
"We want Sunshine Days to be a local hometown celebration, but we also want it to be attractive to out of town visitors," Leonard explained.
The committee is calling on all local artists, from quilt makers to birdhouse builders, to bring their wares downtown for the street fair, which will be held on Sunnyside's South Sixth Street.
"We're inviting local painters, bread makers, metal artists and craftsmen of all varieties, to sign up for booth space at the street fair," Leonard said.
"We want to show off all of the talent we know we have right in our back yard," Leonard said.
"We want to get away from having out-of-town vendors coming to town taking our money out of the community," she said.
"We want to show off our local talent," she explained.
In addition, Leonard said the new Sunshine Days Committee hopes to encourage non-profit and services groups to gather their cooking talents for an open air food court to be located in the center of South Sixth Street, complete with shade awnings and seating for dining.
"We want to centralize all of the food so people can make their selections and hang around the gazebo to enjoy the entertainment being planned for the stage," Leonard explained.
In addition, Leonard said there are plans to hold a family movie night at Centennial Square in downtown Sunnyside on Friday night.
Leonard said she is also trying to organize a flea market just for non-profits and local churches to be held during the weekend.
"I'd like non-profit and church representatives to contact me about that event," she said.
Leonard asked those interested in the Sunshine Days flea market to call her at 840-0644.
"We are also looking for local talent, such as singers, dancers, and bands to perform on the community stage during Sunshine Days," Leonard added.
Persons interested in signing up for the parade, street fair, stage entertainment or food court are asked to call the Sunnyside Chamber of Commerce office at 837-5939.
Most importantly, she is urging Sunnysiders to reserve the weekend.
"We want everyone to come downtown for the celebration. Stick around to watch the movie, attend the parade, support the local service clubs and our local craftsmen," she said.