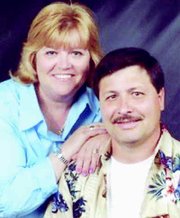 Tony and Debbie Espinoza of Prosser will be celebrating their 25th wedding anniversary with family and friends with an open house Saturday, June 11.
The event, which will be hosted by the couple's children, Jacob Espinoza of Prosser and Jordan and Felicia Espinoza of Sunnyside and friend Anna Eshelman, will be held at the Sunnyside Grace Brethren Church from 1 to 4 p.m.
The Espinozas were married June 21, 1980 in Longview.
Mr. Espinoza was born and raised in Sunnyside and moved to Longview in 1979, where he met Debbie. The family relocated to Sunnyside in 1990.
Both are employed with Curfman Steel Corporation in Sunnyside.