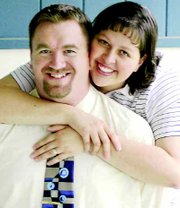 Michael and Cherie Morrow of Sunnyside are pleased to announce the engagement of their daughter, Kylee Cherie Morrow, to Bronnie Paul Tinsley.
The wedding will be held Saturday, Aug. 6, at the Latter-day Saints Church in Sunnyside.
The bride-to-be is a 1999 graduate of Sunnyside High School and a graduate of Central Washington University. She is currently a teacher with the Sunnyside School District and will begin a new teaching job in the Richland School District this fall.
The groom-elect is the son of James and Gloria Eddy of Naches. He is a 1993 graduate of Selah HIgh School. He served in the Navy from 1993 to 1997 before attending and graduating from Central Washington University. He is a researcher for Pacific Northwest National Laboratories in Richland.
More like this story