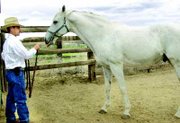 There is a very proud horse owner living in Sunnyside.
Sunnyside's Guy Roberts learned that Sabertooth, a thoroughbred sired by local stallion Petersburg, set a world record by running six and half furlongs in 1:13 at Emerald Downs, just outside of Auburn.
Roberts, who owns Petersburg, said he was floating on cloud nine after he learned of the win.
"You're proud of what your horse produced," Roberts explained.
He noted that Sabertooth's win came in only his second start after spending about 19 months outside of the racing arena. Roberts explained that the thoroughbred had been out due to a minor injury, and that the recent record breaking race was only his second since returning.
According to Roberts, to watch Sabertooth make the run at Emerald Downs it didn't look like the horse was running any harder than usual. He added that not only is it the horse's ability to run that can contribute to a win like the one Sabertooth experienced, but it usually also has something to do with other circumstances, such as the surface of the track.
"There are a lot of little things that make a lot of difference when a horse is running," Roberts said.
Roberts said not only is he proud of the son of Petersburg, but the win will help keep people interested in breeding their mares with the Sunnyside stallion.
Petersburg is no stranger to fathering foals. Roberts said the stallion has been breeding since he was three-years-old. This means Petersburg has been a stallion for nearly 16 years.
Roberts added that the most mares Petersburg has bred in one year stands at 76.
Petersburg isn't Roberts' only thoroughbred. Roberts, who has been in the thoroughbred business for nearly 50 years, owns somewhere in the neighborhood of 60 to 70 horses.
Roberts said he started with quarter horses, but as he got more involved he decided it would be better to have thoroughbreds. He explained that he made the decision to switch because there are more opportunities for thoroughbreds to race in this area that there are for quarter horses.
As for what has kept him involved with the animals for nearly half a century, Roberts said it's simply a love of horses.
"I'll never quit, I don't think," Roberts said of the horse business.