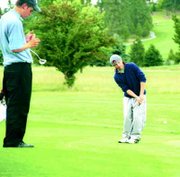 LIBERTY LAKE - Looking back, Grandview High School junior Andrew Michels has to wonder where he could have shaved five strokes off his score Wednesday.
That's all that separated him from making the first day cut at the 2A State golf tournament, which concludes today at Liberty Lake Golf Course.
Michels, who will seek a third straight trip to State next season as a senior, finished yesterday's opening round with a 13-over-par 83. The cut line to move on to day two State tournament action was an 8-over 78.
Normally pretty sharp with his short game, yesterday Michels' approach shots and wedge play let him down.
"Andrew's second shots just weren't getting there," said Grandview Coach Dave Ugetti.
"His driver was working well, but on his second shots, they were coming up short. His short game was not where it usually is," Ugetti added.
It didn't help any, either, that Michels had to watch Cole Alford of Ridgefield and Brandon Filion of Lakeside, his playing partners, make miraculous shot after shot enroute to firing a 72 and 73. Alford and Filion, time and again, kept finding themselves with tough lies, but without fail they scrambled out of trouble and stuck their shots in close to the pin.
Alford's 72 was the third low score of the day. Filion, with his 73, was sitting in fourth heading into today's final round. The first day leaders, with 1-over-par 71's, were Gaston De La Torre of Hockinson and Evan Needham of Meridian.
The Grandview linkster absorbed nothing worse than a bogey on the front nine. Unfortunately, he had eight of them, which gave him a 43 on the par-35 opening nine.
Michels started to right the ship after the clubhouse turn, at one point putting together a string of three straight pars.
"He never gave up," said Ugetti.
But, the springboard Michels needed to get his score under an 80 never materialized, as he missed a couple of birdie putts in the eight-foot range, as well as a six-footer on the par-3 16th.
Any chance of Michels advancing on to day two dropped by the wayside on No. 17. Teeing off from a sunken block with an uphill slope in front of him, the Greyhound golfer struck his worst drive of the day. He managed a double-bogey on the hole, but that ended any hope he had of moving on.
Of the four Yakima Valley golfers who qualified to play at this year's 2A State tourney, Michels had the low score. East Valley's Tyler Chapman was three strokes back of Michels with an 86, Toppenish's Adam Story posted an 88 and Matt Blinsky of East Valley carded a 93.